Last summer I wrote a very positive review of the Garmin Forerunner 10 GPS watch. The FR10 is Garmin's entry level GPS watch, and I was more than a bit surprised by how much I liked it. It provided accurate tracking, stable pace readouts, a small form-factor, and an intuitive, simple menu system. The device was a pleasure to use.
The main drawbacks of the FR10 for me personally were that it lacked the ability to upload complex workouts to the watch, had limited data screen customization (only 2 fields per screen), had a short battery life in GPS mode (about 5 hours, so frequent charging was necessary), and lacked the ability to sync a heart rate monitor. But for most of my runs the FR10 was more than sufficient.
About a month ago Garmin released the Forerunner 15, which is essentially an evolution of the FR10 (from the outside it looks identical). The FR15 adds in the ability to sync a heart rate monitor, increases battery life to 8 hours in GPS tracking mode, and most impressively it adds in a step counter. The FR15 basically takes the guts of the Garmin Vivofit activity tracker (I posted my Garmin Vivofit review yesterday) and stuffs them into an entry-level GPS watch. The combo makes this a very intriguing device!
Before I start the review, let's get the disclosure out of the way. The FR15 I review here was sent to me by my affiliate partner Clever Training (you can get 10% off most purchases at Clever Training by using the code RunBlogXJT – purchases support this site and allow me to write in-depth reviews like this one, thanks!). After writing this review I'll pack it up and send it back to them. I'll also point out that my day-to-day GPS watch is a Garmin Forerunner 620 (delivered by Santa Claus last Christmas), and I also regularly use a Garmin Vivofit that I bought myself.
On with the review! I've now been using the FR15 daily for a few weeks and given the similarity in most respects to the FR10, I've been able to gather my thoughts pretty quickly on this one. As is my practice with fitness electronics reviews, I'm going to organize the remainder of this review into a list of likes and dislikes.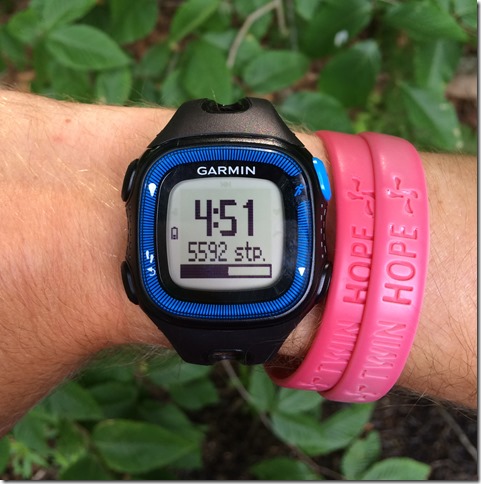 Things I Like About the Garmin Forerunner 15
1. Solid GPS Tracking. One of the things that impressed me about the FR10 was how accurately it tracked my distance and pace for an entry-level device. In fact, I wore it in the VT City Marathon last May and it came closer to getting the distance right than the then top-of-the-line Garmin 610. The FR15 seems to do just as well in this regard. It has consistently recorded distances almost spot on with my Garmin 620 and iPhone (iSmoothRun app). And I actually prefer the real-time pace readout on the FR15 – it's extremely stable, and reports pace in 5 second increments (e.g., 8:00/mile, 8:05/mile, 8:10/mile…) which I think makes things less jumpy. For basic pace and distance tracking on runs, the FR15 is great!
2. Activity/Step Tracking. This is the big draw for the FR15 over the FR10 for me. As a regular user of a Garmin Vivofit and a Garmin Forerunner 620, I find the idea of combining the two into a single device very appealing, if for no other reason than to open up some real estate on my wrists. With the FR15 I can have the watch/tracker on one wrist and the Mio Link on the other for heart rate. All of my bases are covered. With the 620, Vivofit, and Mio I start looking like a cyborg and find myself frequently removing the Mio. Now the 620 does not do activity tracking so I'm not out of the woods, but I wonder if it's within the capability of the hardware to do so since it can track my cadence (step rate) on runs? The problem for Garmin is that adding in this functionality could prevent some Vivofit sales. Since this is a review of the FR15 though I'll leave it at that.
In terms of activity tracking, the FR15 displays a step count directly below the time when the watch is not in GPS mode. Using the bottom left button you can switch to viewing your daily step goal, distance covered (a rough estimate based on your steps – more on this in my Vivofit review), calories burned, or the date. Initially I found the FR15 consistently recorded fewer steps over the course of the day compared to my Vivofit, and I had it on my dominant hand (both devices record "steps" while doing things like brushing teeth so step counts are not perfect). The FR15 counts were sometimes several thousand steps short of what the Vivofit recorded:
After a few days of use I connected the FR15 to my computer to upload data and it notified me that a firmware update was available. One of the fixes was apparently a tweak to the tracker algorithms, and since the update the daily step totals between the two devices have been much closer (though the Vivofit tends to usually count slightly more).
My take would be that if you have a FR15, you don't really need a Vivofit unless you want sleep tracking capability (supposedly sleep tracking is coming to the FR15 in a future firmware update according to DC Rainmaker). If you don't have either then other considerations come into play (see below).
3. Heart Rate Monitor Sync. This is the other big plus for the FR15 over the FR10. The Forerunner 15 can be purchased with or without a heart rate monitor – if you already have an ANT+ heart rate monitor you can save some cash (MSRP is $199 with the HRM, $169 without). I've been using the FR15 with a Mio Link wrist-mounted heart rate monitor and it has worked flawlessly. I initially had some trouble figuring out how to get the watch to communicate with the HRM, but after reading the manual (brilliant!) I realized that during initial pairing you have to put the watch right up against the active monitor (see pairing instructions image below). Once that initial pairing is made the watch will recognize the HRM the moment it is turned on. Heart rate data shows up as a third data screen during your workouts and displays heart rate and heart rate zone.
The FR15 will also sync with a foot pod if you have one, but I have not tested that since I rarely use a foot pod.
4. Size/Form Factor. The Forerunner 15 comes in two sizes – large and small. I have the large version, and compared to other GPS watches I have owned it is still a pretty sleek watch. It could easily be used as an all-day watch, unlike my old Garmin 205 which was like a brick on my wrist.
The FR15 is available in a lot of colors, so there are plenty of options to choose from for both the guys and the gals:
5. Menu Simplicity. I loved the menu system in the FR10, and it's largely the same in the FR15. The FR15 has 4 buttons, and they are intuitive and super easy to use. On the top left is a backlight button. On the top right is a button that serves to initiate a workout and functions as the "enter key" in menus. Bottom left is a back button which also functions to change the data displayed below the time of day when not in GPS mode (steps, calories, distance, etc.), and bottom right is the button you use to pull up and scroll menus and data screens.
Menus include a History menu that allows you to view your data from each run, your daily step counts for the past week, and your records (fastest mile, 5K, 10K, Half-Marathon, and Marathon distances; also longest run).
There is a Run Options menu that lets you program run-walk intervals (this would be great for my beginner 5K group runners!), set a virtual pacer, and configure heart rate alerts, auto pause and data display screens. You can also choose to set auto-lap each mile or turn the bottom left button into a manual lap button.
The Settings menu lets you set an alarm, configure the activity tracker, set your language and distance unit preferences, and configure your user profile (age, gender, weight, height, max heart rate).
6. Battery Life. This is more something I like relative to the FR10 than something I like in general. The FR15 gets a little boost in battery life from 5 to 8 hours in GPS mode. Both watches will more than handle a marathon for me, and now the FR15 might get me through a 50K. But the bigger issue is that the longer battery life means I can go a few extra workouts between charges. More importantly, for an entry level watch that may see people through 5-hour plus marathons, the FR15 is a safer bet to last the full race than the FR10.
7. Garmin Connect Data Consolidation. I mentioned this in my Vivofit review as well – even though I'm not super crazy about Garmin Connect, it is nice to be able to upload and store all of my run data and daily step data in one place. Cuts down on the clutter in my digital life!
Things I Don't Like About the FR15
1. Limited Data Fields. The FR15 limits you to two data screens, each of which displays two data fields (a third data screen appears when a heart rate monitor is synced). On the plus side, because there are only two fields, the text is large and easy to read.
There are 6 data field combos that can be shown on each screen: Time/Distance, Time/Pace, Time/Calories, Pace/Distance, Pace/Calories, Distance/Calories. You get to choose two of these via the Run Options—>Data Fields menu on the watch.
There is an additional level of customization for the Pace field. In the Run Options—>Pace/Speed menu you can configure the Pace field to show any of the following: Current Pace, Lap Pace, Average Pace, Speed, Lap Speed, Average Speed. You only get to choose one, so you can't have one data screen show Current Pace and another show Average Pace. I mainly use Current Pace, and I have auto-lap enabled so after each mile it spits out my lap time. All of this is the same between the FR10 and FR15.
For the vast majority of my runs the lack of added fields isn't a big deal. Most of the time pace and distance are sufficient. It's only on runs where I'm doing something like an interval workout on the track where I like to have a lap screen that shows lap time, lap pace, lap distance, etc. That's where a higher-end watch like the Garmin 620 with up to 4 configurable data fields per screen shines.
2. Can't Create Workouts. Really the only two features that keep me from going to a basic watch like the FR15 are the limited data field options and the inability to create custom workouts. I understand that added features come with a higher-end watch, so this isn't really a complaint. A lot of the other features of a watch like the FR620 are fun, but aren't really essential to my daily needs (e.g., running dynamics, VO2max estimate, etc.).
3. Satellite Sync Speed. It's not as fast as my 620 at locking satellites, but seems faster than my old 205. Not really a big deal.
Things About Which I Am Indifferent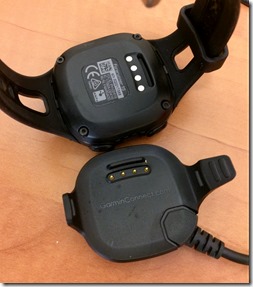 1. No Wireless Sync. To upload data from the FR15 to your computer you must do so via a USB cord. I'd like to say that one of the things I like best about my Garmin 620 is the wireless data upload. In reality, my 620 has had intermittent luck at best with uploading run data via wifi. More often than not the watch can't seem to recognize my home wifi network.
On the other hand, my Garmin Vivofit has no trouble uploading data wirelessly via ANT+ to my computer or Bluetooth to my phone. It's very handy, especially for a device that has a battery that is supposed to last a year. The reality with devices like the FR15 and FR620 is that they have to be charged at regular intervals anyway, so uploading via USB cord really isn't a big deal – I just do it whenever they need a charge.
So Which Device Should I Buy?
The big question with a device like the Garmin FR15 is whether you should choose it over a basic activity tracker like the Vivofit, or over a more expensive watch like the Garmin 220 or 620. Here's my take.
If you only want activity tracking and have no interest in GPS…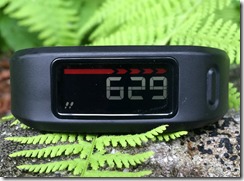 Get the Garmin Vivofit. It does a great job tracking steps and the incredible battery life is a huge plus over any current GPS watch on the market. Plus, it does sleep tracking if you care about that (I personally do not, though sleep tracking is supposedly coming soon to the FR15).
You can read my Garmin Vivofit review here.
If you want basic GPS functionality and don't care about activity tracking or heart rate monitoring…
Get a Garmin FR10. It does almost everything the FR15 does minus activity tracking and heart rate monitoring. However, it has a slightly shorter battery life, so if you are planning to run a marathon and it may take longer than 5 hours, the FR15 is a safer bet to get you through the race.
You can read my Garmin Forerunner 10 review here.
If you want activity tracking and might someday want GPS…
Get the Garmin FR15. It tracks steps as well as the Vivofit, and the GPS will fill the needs of the majority of runners. Plus, for $40 more than the FR10 you gain the possibility of heart rate monitor integration and a built in activity tracker ($70 more if you want the HRM included). Unless you really need lots of screen customization options and the ability to create complex workouts that can be uploaded to the watch you won't need much more than what the FR15 can do. You will have to charge the device far more often than a Vivofit, but how often will depend on how frequently you use the GPS (the FR15 is spec'd at 5 weeks or so of battery life in non-GPS mode).
If you want extensively customizable data screens, workout configurations, and other bells and whistles…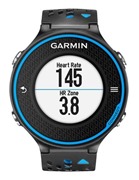 Get the Garmin 220 or 620. I have the latter and probably don't need the vast majority of features that it offers. I got it mainly so I could play with the running dynamics features, and though they are interesting they're probably not going to benefit most people (not sure I know what to do with a lot of the data it provides!). Though I haven't used it myself, I'd say the 220 is probably the better choice if your budget is tight and a basic GPS watch like the FR15 isn't enough for you. I should have a review of the Garmin 620 written soon.
Purchasing Options
The Garmin Forerunner 15 is available for purchase at my affiliate partner Clever Training (as are the other devices mentioned above). Clever Training specializes in fitness electronics, and has agreed to provide a 10% off discount to Runblogger readers on most products that they carry – just enter the code RunBlogXJT at checkout. Purchases support this site and help me to write reviews like this one. Your support is very much appreciated!