I was a long time user of a Fitbit Ultra activity tracker. I loved that little device, and used it daily for a few years. Unfortunately, the Fitbit had a bad habit of falling off my waistband and getting lost. Or I'd forget to take it off and it would go through the wash, or wind up buried in a dresser drawer. Usually it would turn up after going missing for a few days/weeks, but it disappeared sometime during a vacation at Disney World back in February and has not turned up since. I needed to let the little guy go and find a replacement.
In general I loved the Fitbit Ultra, but as a distance runner one of my biggest problems with the device was that although it captured my walking steps well, it did a poor job of counting steps while running (it would always undercount by a significant margin). After some experimentation I determined that this seemed to be related to its location on my waistband – running with it strapped to my wrist yielded far better results. Given this, I decided that my new fitness tracker had to be a wrist-mounted model, and thus the clip-style Fitbit One and Fitbit Zip were out as replacement options. I knew there would be more potential for measuring random movements as steps with a device on my wrist, and that it wouldn't handle step counting well while pushing my son in a stroller or while mowing the lawn, but as a runner the tradeoff of more accurately capturing my steps on runs would be worth it.
I narrowed my options down to three: Fitbit Flex, Fitbit Force, or the Garmin Vivofit. I quickly eliminated the Flex due to the lack of a step/data display. I like to be able to see my numbers. The Fitbit Force was appealing since I was already in the Fitbit ecosystem, but it had just been recalled since the band had a tendency to cause a skin rash in some people. That left the Garmin Vivofit, which had just been released.
I bought the Garmin Vivofit within a few weeks of its release earlier this year, and have been using it continuously since. I've been using Garmin GPS watches for years, so I'm as tied into the Garmin Connect ecosystem as I was into Fitbit (probably moreso). As a result, the change was easy. Overall I have been very impressed, though the device does have a few quirks which I'll outline below.
Things I Like About the Garmin Vivofit
1. The Screen. I love having a fitness tracker that has an easy-to-read screen located in plain view on my wrist. It gives me a constant reminder of how active I've been on a given day. And the Vivofit screen has a little red bar across the top that slowly grows during periods of inactivity – a good reminder to get off your butt and move around a bit to make the bar go away.
2. Battery Life. Unlike my old Fitbit, the Vivofit does not require regular recharging. Garmin claims the battery will last for a year before needing to be replaced (it uses easily replaceable coin cell batteries). I've been using mine daily since March and have not had to replace the battery yet – so far, so good!
3. Run Step Tracking. The Vivofit seems to do a much better job of tracking run steps than my old Fitbit Ultra. I think placement on the wrist is the key here and I suspect any wrist mounted
device will outperform a waist clip, at least based on how I move. I'm now much more confident that the device gives a good relative estimate of my level of activity on a given day.
4. Clock. It's a small thing, but I like that the Vivofit can display time-of-day and can thus double as a watch.
5. Heart Rate Monitor Integration. I love the fact that the Vivofit can sync with ANT+ heart rate monitors. I've been using mine with a Mio Link wrist mounted HRM (review coming soon!) and have loved the combo. I have them side-by-side on the same wrist (see photo below) and it lets me have a continuous readout of my heart rate on one wrist while my Garmin 620 displays pace/distance/time etc. on the other wrist (I'm a bit of a gadget junkie!).
My one issue with using a heart rate monitor with the Vivofit is that while it is synced it records an activity. Since I always record my runs with a GPS watch this leads to two versions of each activity being uploaded to Garmin Connect (and thus needing to delete the Vivofit version). Not sure if there is a way to turn of activity syncing with the Vivofit, I only want the daily step data to upload – if you know, I'd appreciate a tip in the comments! I suppose the easy answer would be to just sync the HRM with the watch instead of the Vivofit, but this lets me keep HR constantly visible on the Vivofit while using the GPS watch for other data fields (I'm difficult like that).
6. Wireless Sync. The Vivofit can sync either with a computer via a USB ANT+ receiver (using Garmin Express software) or with a smartphone via Bluetooth. I like the fact that I don't have to take the device off my wrist to sync my data – with the Fitbit this would often lead to me forgetting to put it back on, sometimes for days at a time.
7. Clasp. In four months of use I think the Vivofit has only been pulled off my wrist twice, both times because the clasp got caught on something. The clasp stays put very well for me and no risk so far of the Vivofit falling into the toilet (unfortunately this seems to be a common complaint about clip-based fitness trackers that attach to a waistband!). I should also note that the Vivofit comes with two different sized bands to customize fit to your wrist. You can also buy replacement Vivofit wristbands in different colors. If you're concerned about the Vivofit falling off, you can also buy clasp fasteners to help secure the connection.
8. Waterproof. I would never have taken my Fitbit Ultra into the shower or for a swim in the lake. No problem doing either with the Vivofit.
9. Garmin Connect Data Consolidation. Garmin has recently overhauled the Garmin Connect website. I initially wasn't crazy about it, but it's getting better (I think I still like the old site better). What I do like though is that since I have been a long time user of Garmin GPS watches, I now have all of my fitness data located in one place (daily steps + run data). The more I can simplify my digital life, the better! Garmin Connect offers lots of ways to visualize your data, but mostly I'm just interested in daily and monthly activity counts: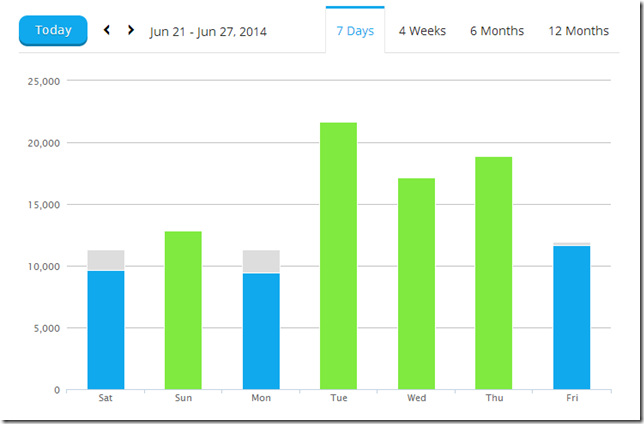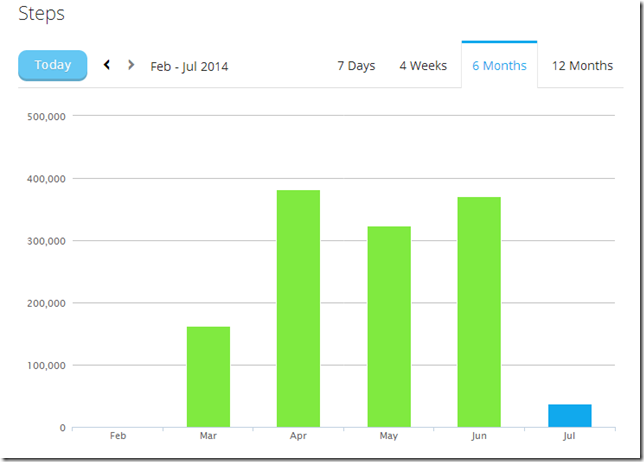 10. Garmin Connect App. The Garmin Connect app on my iPhone syncs with the Vivofit via Bluetooth. This is handy since it allows me to download step data if I'm away from my computer (and the USB ANT+ stick). You can also view your data in the app:
Things I Don't Like About the Garmin Vivofit
1. Movement/Tracking Sensitivity. Whereas I felt like the Fitbit Ultra missed steps frequently, particularly on runs, I feel like the Vivofit is a bit overly sensitive to non-step movement. For example, I often get a hundred or more "steps" when I brush my teeth. I switched the Vivofit to my non-dominant left wrist to combat this. Conversely, a wrist mounted tracker performs less well if you are pushing a lawnmower or baby carriage since your wrist will not be moving as much. Ultimately, I don't expect fitness trackers to be 100% perfect, and the value for me is more in providing a relative estimate of my activity from day to day than in providing an exact measure of my steps. I'll take the improved run step tracking over the extraneous "step" measurements since a large proportion of my steps each week occur on runs (though I do spend a lot of time mowing my lawn each week…).
2. Distance Tracking Accuracy. I don't consider this to be a fault of the Vivofit, but rather a problem with any accelerometer-based tracking device. Though the Vivofit will convert your step counts into a distance equivalent, it will not be nearly as accurate as a GPS device if you are interested in workout distances (hence why I use a GPS watch like my Garmin Forerunner 620 for runs), particularly for running. The main reason is that distance covered over a given period of time is a function of step rate and step length, and both change as a function of speed, incline, decline, etc. The distance estimate from a device like this should be considered just that – an estimate.
As an example of problems with distance measures recorded by a device like the Vivofit, I ran a 5 mile run last week (measured by Gmap Pedometer) up to the top of a ridge in Maine and back down. My GPS watch recorded almost exactly 5 miles, whereas the Vivofit recorded the same run as only 4.4 miles, probably since my stride length and cadence varied dramatically on the up vs. down portions. I pushed the pace hard on the donwhill as well and probably covered quite a bit of distance with each step. A device like the Vivofit will likely be more accurate for walking distance than running unless you do all of your miles at roughly the same pace on relatively flat ground (or on a treadmill at a consistent pace).
3. No Backlight. Really not a big deal, but a backlight would be a nice addition to a future model.
4. Stair Counting. I kind of liked that the Fitbit Ultra counted stairs climbed each day. The Vivofit does not do this, but honestly I can't say that I miss the feature enough for it to really bother me. The only steps I tend to encounter each day are the flight up to my bedroom or the flight down to my basement fridge (location of my IPA stash).
Things About Which I Am Indifferent
1. Sleep Tracking. You can put the Vivofit into sleep mode by pressing and holding the button until the word "Sleep" appears on the screen. It will record your movements while you sleep. Personally, I almost never use this, but if it's something you're interested in the option is available. I can usually tell how well I slept the previous night by how many cups of coffee I need to get me going the next morning.
2. Daily Goal. The Vivofit adjusts your daily target for steps based on recent activity levels. This could be a good motivator to keep active and push your limits, but I honestly haven't made much use of the step goal determined by the watch. This might change during the winter when I'm not actively training for a race and my daily step counts tend to be much lower.
Conclusion
I have been extremely happy with my Garmin Vivofit so far. It's been on my wrist almost every day since March, and I've found it to be a big improvement over my old Fitbit Ultra (may it rest in peace, wherever it is…). I love the screen, battery life is excellent, and the ability to sync it with a heart rate monitor is a great feature for me as a runner. Being able to consolidate all of my fitness data on Garmin Connect has also been nice. I highly recommend the Vivofit!
Update –I have now posted a review of the Garmin Forerunner FR15. The FR15 is an entry-level GPS watch that does step counting just like the Vivofit. If you want a device that combines activity tracking, heart rate monitor sync, and GPS tracking the FR15 is definitely worth a look!
Purchasing Options
The Garmin Vivofit and associated accessories are available for purchase at Amazon.com. The Vivofit is also available at Clever Training (Clever Training offers a 10% off discount to Runblogger readers on select products using code RunBlogXJT).
Outside of the US, the Garmin Vivofit is available at Amazon UK and Amazon Canada.
Purchases made from retail sites linked above provide Runblogger with a small commission and help me to produce detailed reviews like this one. Your support is very much appreciated!