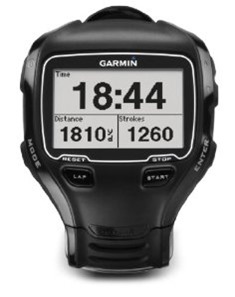 My first ever GPS watch was the Garmin Forerunner 205. I loved that watch and used it on every run for several years. It was rock-solid when it came to tracking, the battery seemed to last forever, and it carried me through multiple marathons without issue.
My only real issue with the 205 was that it was big. Too big to wear as an all-day watch. The nuisance of having to swap watches for runs prompted me to buy the smaller Garmin 610 a bit over a year ago (I've since sold the 610 and now have a Garmin 620).
Over the past few years Garmin has released out a few successors to the 205/305. First came the 310XT (still available, under $200 at Clever Training). The 310XT was marketed as a triathlon/multisport watch – it boasted ~20 hrs of battery life, easy swapping between wrist and bike mount, and a waterproof housing that could be worn while swimming. The 310XT was followed by the Garmin Forerunner 910XT, which maintains the big battery life (also ~20 hours) and waterproof housing, but adds additional bike and swim tracking features.
Clever Training sent me a sample of the Garmin Forerunner 910XT to try out (it was a loaner and will be returned to them after this is published). I'm going to keep this review short because I'm not a triathlete – I have not used any of the bike or swim oriented features (check out DC Rainmaker's 910 XT review for more on these aspects of the device). My comments below are geared toward the runner who might be interested in this watch.
After spending some time with the 910XT I've concluded that for a runner, this watch is pretty similar to the old 205/305. It's a bit bulky – slimmer than the 205/305, but still not an all-day watch. It has a big, easy to read screen that allows up to 4 data fields and a ton of field customization options. And it's rock-solid when it comes to recording accuracy. All are things I loved about the 205.
I loaned the 910XT to my buddy Brett to use in the VT50K last Fall, and as an example of recording accuracy here was the result:
Only one-third of a mile short over 31 trail miles is pretty darned solid (~99% accurate).
Where the 910XT improves on the 205/305 (I never tried the 310XT) is with its multisport/triathlon features (again, read DC Rainmaker's review for more on these, he evaluates them far better than I could) and the fact that it doubles the battery life. It also connects to satellites a bit faster, which is nice.
The big question for a runner is: "Do I really need a bulky, $399 GPS watch?"
My answer would be maybe. It really depends on what your needs are.
Battery life is the major (only?) reason why some runners might need a watch like the 910XT. For example, ultrarunners would benefit from a battery that lasts well over 10 hours. The 910XT should cover most people up to 50 miles, and might even work for particularly fast 100 mile racers like my buddy Nate who ran sub 20:00 at Vermont 100 last year. There aren't a lot of other options for GPS watches with big battery life – others that I'm aware of that run 20+ hrs are the $500 Suunto Ambit2 and the Garmin Fenix (which DC Rainmaker did not review glowingly for runners; the Fenix 2 is coming later this month, but don't know much about it). The other potentially appealing feature of the 910XT for ultrarunners is the barometric altimeter, which should record elevation data more accurately than other watches.
The other two situations I could see where this watch would be a good fit would be for a runner who also does a lot of hiking and wants to track that as well, or for a runner who might want to keep a door open for triathlons in the future. In most other cases a cheaper, smaller watch should suffice.
Conclusion
The Garmin Forerunner 910XT is a power-packed watch targeted at multisport athletes. It's probably more watch than is necessary for most runners, however, super long battery life sets it apart from most other GPS running watches. If you need a big battery, the 910XT would be an excellent choice.
Garmin Forerunner 910XT Purchasing Options
The Garmin Forerunner 910XT is available for purchase at Clever Training. Clever Training specializes in fitness electronics, and has agreed to provide a 10% off discount to Runblogger readers on most products that they carry – just enter the code RunBlogXJT at checkout.
Purchases made at Clever Training support this site and help me to write reviews like this one. Your support is very much appreciated!