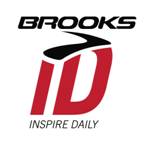 I received an e-mail yesterday informing me that my application to become a member of the Brooks I.D. program for 2010 has been accepted!  I'm really excited about this for a number of reasons, which I'll get to in a bit, but I thought I'd first let you in on what this program is all about.  Here's the description of the Brooks I.D. program from the Brooks Running website:
"Brooks I.D. stands for Inspire Daily. These two simple words guide the principles of the program. Brooks I.D. is made up of over 2,000 members who are active in their running communities and share a passion for the Brooks brand. They are runners who are winners in their own right: Winning their age divisions, accomplishing their personal goals, pushing their own limits, and, by extension, encouraging others to do the same. They are coaches, mentors, and leaders."

"Brooks I.D. members use their athletic talent to help carry out the Brooks mission: To inspire people to run and be active."
You can also watch a video about the Brooks I.D. program here.
You can find the Brooks I.D. program application here.
If you've followed this blog at all, you might scratch your head about my fitting in with the "passion for the Brooks brand" line in the first paragraph of the program description above.  This would be due to the fact that I've done most of my running of late in shoes made by other manufacturers (mainly Nike and Saucony), and have written very little about Brooks.  This is more due to my habit of trying out different things, and my penchant for bargain hunting, than any particular allegiance to Nike or Saucony, and if I had written this blog last year you would have found me running mostly in Brooks and Asics shoes (my second true pair of running shoes were Brooks Adrenaline GTS 8's, and I ran my first marathon, Vermont City, in them).  I also have quite a bit of Brooks apparel, and use it frequently.  I now tend to run in lightweight shoes, and am looking forward to running in the Brooks Launch, T6 Racers, and maybe even the Mach 11 XC flats.
My decision to apply for the Brooks I.D. program, however, was not driven so much by the gear as it was by its mission – to "Inspire Daily," and to "inspire people to run and be active."  Since I started this blog back in January of this year, I have met a huge number of wonderful people in the on-line, Run-Net community.  From sites like Dailymile to Twitter, there are people doing amazing and inspiring things through running.  Whether it be through marathon fundraising and charity events, or through reaching personal fitness goals, I have seen people whose lives have been transformed by taking up this hobby that is such an important part of my life.  This is where Brooks really stands apart from other brands for me – they are the one running gear company that has in my mind truly embraced this wonderful community, and their direct involvement with everyday runners like myself on sites like Twitter is both impressive and inspiring.  Brooks lives up to the mission of the I.D. program through its actions, and for that reason I wanted to become a part of their team.  If I can inspire just one person to get active through my own journeys on the road, through teaching in the classroom about the value of exercise, and through telling my story on this blog and my Run-NH website, then these efforts will have been well worth it.
I have gone through a lot of internal debate about whether joining this program would be the right thing for me to do.  I like experimenting with gear and reviewing various product, and committing to using one brands's shoes and apparel is a big step for me, but ultimately the Brooks I.D. mission won me over.  I don't run for the gear so much as I do for the love of the simple act of being out on the road, and for the enjoyment I get out of sharing my passion for running with others.  Perks like gear discounts and community membership will surely be nice, but my goal is to promote the mission.  I have some ideas of how to proceed with this, and am toying with a few big things, but those will come out in due time.  For now, I'm looking forward to being sponsored for 2010, and am excited to be a part of the Brooks I.D. team!