I'm a week-and-a-half from marathon day, and I have a number of dilemmas that I've either addressed or am trying to address. Here they are:
1. Should I run another 20 miler prior to the race? It's getting pretty close to race day, so if I don't do it today I'm pretty much out of time. My last 20 miler was about two weeks ago, and my recovery from that one went well. I think that If I run today, I should be ok on marathon day as long as I take it easy for the next week. I'm probably breaking every rule of marathon tapering by doing this, but I like to experiment and we'll see how it works. I've pretty much decided to go for it, but plan to take it easy.
2. Should I run the big local 5k next week? Last year this race was one of my big downfalls – I ran it too hard and probably suffered some residual tiredness on marathon day. After some inner struggle, I've decided to skip the race, but will be in attendance as a race volunteer. This is my first time volunteering at a race, and I'm kind of excited to give something back to the running community that has given me so much.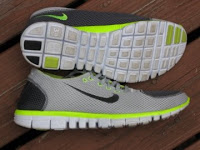 3. What shoes do I wear on marathon day? I'm still debating whether to wear my standard trainers, my racing shoes (Saucony Fastwitch 2's), or my new Nike Free 3.0's. The latter are my new favorites, but I'm not sure how they'll hold up for a full 26.2 miles. Their near weightlessness, however, makes using them very tempting. I plan to try them on my long run today, and if all goes well they may be on my feet on race day. I figure if they start to hurt on the run today, I can drop by home, switch to another pair, and then finish up.
4. Should I wear my EMS Espresso waistpack (see picture at left)? Fuel and water were issues for me last year, and although I prefer to run without a pack, I'm thinking that I might try it this time around. Having gels at the ready from the get go should help, and this way I can start the race with two water bottles – 1 in the pack, 1 in the hand. It also has pockets to carry a cell phone to help me find the family at the end of the race (easy access to your support crew is helpful after a marathon!). I'm leaning toward wearing it, but have not decided for sure yet.
So this is where I'm at right now with just over a week to go. I'll update regularly right up to marathon day.