Over the past few months I've begun to explore the world of social networking full out. For people in my 30-something age range, sites like Facebook and Twitter have suddenly exploded, and it seems like just about everybody I know is on one or the other (I'm now on both – you can view my Twitter feed in the sidebar on the right). As my comfort level with these sites grew, I decided to begin looking for a site that would allow me to network with people who share my hobby of distance running. I have been generally hesitant to post anything on some of the larger running forums since from the outside they seem so crowded and have such a large base of long-time users. What I wanted was something newer and less crowded where I could discuss my interests and post my training data. After checking out a few sites, I discovered dailymile.com, a relatively new site (started in 2008) that allows you to manually post workout data, import data from Nike+ (Garmin support is supposedly coming soon), and participate in a number of forms of social networking (e.g., forums, groups, uploading posts to Twitter and Facebook).
My initial impression after just over a month on dailymile is that I like the site a lot (honestly, it's become quite an addiction!). I check in daily to both post my workouts and view those that others have posted, and the mutual motivation provided on this site is outstanding. The interface is clean and attractive, the tools they have implemented so far work well, and the forums are relatively new so just about everyone on the site right now is working to help build a new community for active people. One drawback of it being a new site is that posting is not as active as in some of the more established sites, though I suspect that will change as the site matures (it seems to have grown a lot in just the past month!). Also, because it is new, there is not an extensive history of knowledge that you can search through, though this will also improve with time (there's already a lot of very helpful info). If you want to join a site that is rapidly developing and contribute to the process, this is the one for you!
One of the things that has really impressed me about dailymile.com is that the site developers are regular contributors to discussions, and they are continually adding new features to improve the site content (for example, they just added a "challenge" feature similar to what is available on the Nike+ site). Furthermore, they actively request suggestions for further improvements and respond very quickly to e-mails about the site. They deserve a lot of credit for the job they have done so far.
My one major wish right now for dailymile is that they get the Garmin Forerunner interface up and running. I record all of my runs on my Garmin Forerunner 205, and ditched my Nike+ a long time ago, so entering run data manually requires some dedication and guestimation regarding pace, time, etc. unless I feel like pulling the Garmin out to get the exact numbers.
Check out www.dailymile.com for yourself, or view my Dailymile profile here (or click the image below)- feel free to add me as a friend!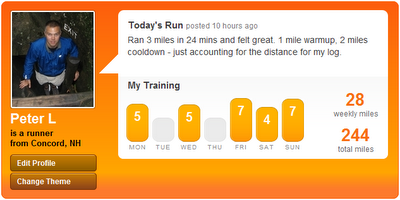 Below is a YouTube video of the Dailymile creators (Ben and Kelly) discussing their site: