Please consider supporting the work done on Runblogger by patronizing one of the on-line retailers listed below. You'll hopefully save a few dollars on your next running shoe or gear purchase, and affiliate earnings help me to keep the blog running and the running shoe reviews coming!
Your support is very much appreciated!
---
Featured Partners 
---
Running Warehouse carries all of the gear a runner needs, from shoes, to apparel, to nutrition products. Their prices are hard to beat, and Runblogger readers can take advantage of 10% off selected products (exclusions apply) by clicking the banner above and entering the code RUNBLOG10 at checkout.
RW also has great clearance deals on shoes – view the men's and women's selections.
---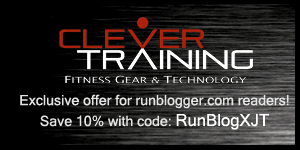 Clever Training specializes in carrying gear for runners, swimmers, and cyclists, with a particular emphasis on fitness electronics (think GPS watches and the like).
Runblogger readers can get 10% off any item that they carry in their on-line store (with some exceptions for current sale items). To take advantage of the 10% discount, simply visit Clever Training and enter the code RunBlogXJT in the coupon field of the Shopping Cart.
---
Sale/Clearance Shoes – Low Prices!
---
Zappos is known for their fast shipping and great service. But, they do also have a great sale/clearance shoe selection including popular running shoes at low prices. Click here
or on the banner above to view current sale/clearance running shoes.
---
6pm.com is owned by Zappos and is kind of like the Zappos clearance store. They don't offer the free shipping that Zappos is known for, but they do sell popular running shoes at very low prices. Check out the current selection of clearance running shoes here.
---

Amazon has a solid selection of running shoes, and frequently carries clearance models at steep discounts. View their current sale selection here.
---
Shoebuy doesn't carry a lot of running shoes, but they often have discount coupons for those that they do carry, sometimes as much as 25% off. Click here to view current sales at Shoebuy.
---
Current Flash Sales
---
---