I'm going to start this review with a bold statement: the Nike Free 4.0 Flyknit is the best Nike Free shoe I have ever worn.
Writing that opening line is a big deal for me because the original Nike Free 3.0 remains one of my favorite shoes of all time. That shoe was lightweight, ultra-flexible, ran silent, and had a sock-like upper that was about as near perfection as a minimal shoe upper can get. My only complaint about the 3.0 v1 was that it was a bit narrow. The new 4.0 Flyknit matches the original 3.0 on all of the positives, and improves on it by having a much wider toebox. It's an amazingly good shoe.
Interestingly, I almost passed on trying the Free 4.0 Flyknit. Several weeks ago I purchased the new 2014 model of the Nike Free 5.0. I hated it. It had a tight band around the forefoot that dug into my skin, and quite honestly it felt and looked a bit cheaply made. I wasn't impressed and it went back to the store unworn. However, I'd heard from some fellow shoe geeks that the 4.0 was going to be the big winner among the 2014 Free models, so I spent the $100+ to buy a pair (MSRP is $120). This might be one of the few times where I feel that the relatively high cost might be justifiable – I like the shoe that much.
So what is it that makes the Free 4.0 Flyknit so special? Well, pretty much the entire package. The shoe simply feels like an extension of my foot. It gives me everything I need, and almost nothing that I don't, and that is exactly what I want in a shoe.
Shoe Stats
Weight: 7.4 oz in men's size 9; 6.3 oz in women's size 8 (per Running Warehouse)
Stack Height: 20mm heel, 14mm forefoot (per Running Warehouse)
Sizing: I went a half size up as I typically do in Nike shoes, might have been unnecessary
Upper Construction
The Flyknit upper of the Free 4.0 is minimally structured. No overlays, no heel counter, just a stretchy woven mesh with a few Flywire bands on either side of the lace rows to lock the foot down. It feels like a sock, and it hugs my foot in all of the right ways. Not too tight, not too loose. Just perfect. The heel and midfoot are snugged in tightly, and the forefoot opens up so that the tight weave does not constrict or squeeze the toes. The entire upper flexes and moves with the foot in a way I have rarely experienced in a running shoe.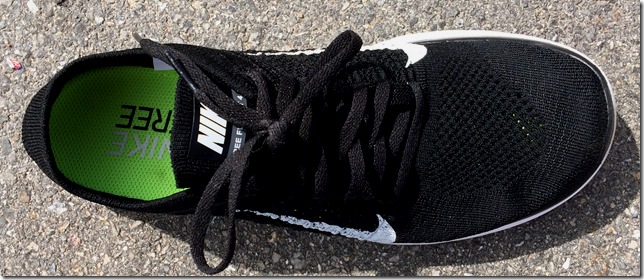 The upper mesh is open in the midfoot and forefoot to provide for some air flow. Unlike the new Free 3.0 Flyknit, which I have heard fits fairly tightly, the 4.0 has a traditional tongue, and I think this allows for better customization of fit. I've run sockless in the shoes a few times and have had a bit of abrasion on one run near the midfoot/arch (maybe from one of the Flywire bands?), but this has been inconsistent. May have just been a hot day with more sweat leading to chafe. No issues at all while wearing socks (side note – these shoes seem to hold a stink when you use them sockless).
Sole Construction
Like the upper, the sole of the Free 4.0 Flyknit is super flexible and moves really well with the foot. The sole is typical of other Nike Free shoes in having individual pods separated by deep grooves to maximize flexibility. The drawback of the grooved sole is that the grooves do tend to collect rocks and pebbles, but this has never really bothered me in any of the Frees and they are easy enough to get out by taking the shoe off and flexing the sole around after a run.
The majority of the sole is exposed midsole cushion, so you can barely hear your footfalls while running in them – I love a silent shoe! The tradeoff to this design is that there is minimal outsole coverage – rubber pods are only present at the back outer heel and under the big toe. As such, sole durability is something to keep an eye on if you tend to be a scuffer. Interestingly, my wear pattern only seems to be from the anteriormost heel pod forward through the midfoot – much more of a midfoot landing wear pattern than I tend to observe in most other shoes that I run in.
You can see that after 40 miles I've ground down the protruding portions of the white pods directly above and to the right the 4.0 in the image below:
I'm wondering if the slightly rounded heel, curved sole, and flexibility of the shoe have something to do with this more anterior wear pattern?
Performance
I've honestly found it really hard to not pull these shoes out for most of my recent runs (though the Saucony Kinvara 5 is giving them a run for the money as current favorites). I've run just over 40 miles in them so far, with a max long run of 14 miles. I've run from easy pace down to 5K pace. They've worked well for just about everything. I'd have no hesitation in taking them beyond 14 miles in a single run, I might even consider them for a marathon. They are a bit too flexible for my taste for speed or a 5K, and the sole grooves would probably collect too much debris for off-road use, but they are versatile enough to handle just about anything else I could throw at them.
I'm really hard-pressed to come up with anything negative about this shoe – I think the only issue I've had was with the fact that the size tag is stitched to the underside of the insole and I can feel the stitching under my heel. It wasn't bad with socks, but it was noticeable when I went barefoot in them. It might be possible to cut the tag and remove the stitching, but I was lazy and just swapped the insoles out for an identical one from an older pair of Free 5.0s.
In addition to running in them, I've also found the Free 4.0 Flyknit to be a fantastic casual shoe. I bought a pair in black since I like to have a few conservative looking shoes for casual wear, and I'm typically sockless in them while walking around. They are amazingly comfortable.
Conclusion
The Nike Free 4.0 Flyknit is a fantastic shoe, easily one of my favorites so far this year. If you want something with a minimal upper, a flexible sole, and a roomy toebox these should be at the top of your list of options to try.
Purchasing Options
The Nike Free 4.0 Flyknit is available in a variety of colors at Running Warehouse and Road Runner Sports. Outside of the US they can be purchased at Wiggle.co.uk. Purchases made via these retailer links help to support this site – thanks!