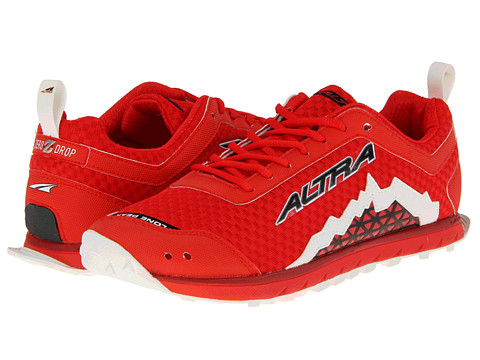 My perfect trail shoe would be one with a minimal upper that fits like a glove over the forefoot, a wide toe box, excellent drainage, great grip, a soft ride, 0-4mm heel/forefoot differential, and enough cushioning to run 100 miles.
When talking about shoes for an ultra, I think that it's important to distinguish what distance and what sort of surface the race will be on when picking the right shoe. A shoe that is perfect for a muddy 50k might be terrible for a 100 miler on hard-packed dirt roads. Since I only use shoes with less than a 4-5mm heel/forefoot drop that is all I've included in my list.
Note: This list is only based on shoes that I have used myself. If there are other shoes you'd recommend in this niche, leave a comment!
You can also view Pete's recommendations for cushioned, zero drop road and zero drop trail shoes.
---
Top Low-Drop Ultramarathon Shoes
---




Altra Lone Peak 1.5

Stack Height: 17mm, 17mm
Weight: 10.2oz

Quick Take: for burly trails – super comfy with a great, wide toe box, good traction. If drainage was better this shoe would be just about perfect. Good for distances up to 100+ miles.

Read Nate's full Altra Lone Peak 1.5 Review

Buy at Running Warehouse
Buy at Zappos
Buy at Optimal Run (ships internationally)





Altra Torin

Stack Height: 20mm, 20mm
Weight: 9.0oz

Quick Take: for road ultras – perfect balance of cushioning without being squishy like a Hoka. Good for distances up to 100+ miles.

Read Nate's full Altra Torin review

Buy at Running Warehouse
Buy at Zappos
Buy at Optimal Run (ships internationally)





La Sportiva Helios

Stack Height: 20mm, 15mm
Weight: 8.5oz

Quick Take: Burly trail shoe, incredible traction, good drainage. Good for distances up to 100+ miles.

Read Nate's Full La Sportiva Helios Review

Montrail Fluidflex

Stack Height: 21mm, 16mm
Weight: 7.4oz

Quick Take: Super light feel with nice cushioning. Good for distances up to 50 miles.

Read Nate's Full Montrail Fluidflex Review




 Hoka Bondi B Speed 

Stack Height: 35mm, 30mm 
Weight: 9.5oz

Quick Take: Road shoe with super soft feel and incredible cushioning. Works better off road than you would expect. Good for distances up to 100+ miles.

Read Nate's Brief Hoka Bondi B Speed Review

Hoka Bondi B 2

Stack Height: 35mm, 30mm
Weight: 11oz

Quick Take: Same as Bondi B Speed, with more breathable upper. Good for distances up to 100+ miles.


Read about Pete's wife's experience with the Bondi 2




 Hoka Stinson Evo 

Stack Height: 38mm, 32mm
Weight: 11.8oz

Quick Take: Hoka cushioning with the best traction of any of their shoes. Narrow-ish toe box. Good for distances up to 100+ miles.


Read Nate's Hoka Stinson Evo Review

Brooks PureGrit 2

Stack Height: 21mm, 16mm
Weight: 9.7oz

Quick Take: Good do-everything shoe with a nice ride. Traction better than the PureGrit 1, but still could use improvement. Good for distances up to 100+ miles.

Read Nate's Full Brooks PureGrit 2 Review

Buy at Running Warehouse
Buy at Zappos
Buy at Sportsshoes.com (outside US)





Merrell Mix Master II

Stack Height: 18mm, 13mm
Weight: 9.0oz

Quick Take: comfy shoe that is right in the middle of minimal to traditional spectrum. Good for distances up to 50k.


Read Pete's Full Merrell Mix Master 2 Review




New Balance MT110

Stack Height: 18mm, 14mm
Weight: 7.7oz

Quick Take: The best fitting shoe I've ever used. Firm ground feel, decent traction. Uppers prone to ripping. Low price. Good for distances up to 50k.

Read Nate's Full New Balance MT110 Review

Buy at Running Warehouse
Buy at Zappos
Buy at Sportsshoes.com (outside US)




New Balance MT1010

Stack Height: 23mm, 19mm
Weight: 7.7oz

Quick Take: Similar fit to the MT110, but a little bit sloppier. Better cushioning, excellent traction. Good for distances up to 50 miles.

Read Nate's Full New Balance MT1010 Review

Buy at Running Warehouse (on clearance)
Buy at 6pm.com (clearance)
Buy at Sportsshoes.com (outside US)

Skechers GoBionic Trail

Stack Height: 12mm, 12mm without insole, 18mm 14mm with insole
Weight: 8.8oz

Quick Take: Excellent traction, light fast feel, soft cushioning. Good for distances up to 50k.

Read a Full Review by Caleb Masland

Buy at Zappos
Buy at Skechers.com (use code AAA20 for 20% off)

Pearl Izumi EM Trail N1

Stack Height: 23mm, 16mm
Weight: 9.8oz

Quick Take: light fast feel, smooth heel/midfoot to toe-off transition. Good for distances up to 50 miles.

Read Nate's Full EM N1 Trail Review