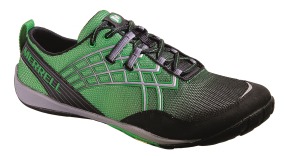 One of the comments I've seen a lot lately is that the minimalist running trend is over. A number of reasons are given to support this statement, and I thought I'd take a deeper look at two of the big ones.
Injury Risk in Minimal Shoes
The first reason I typically see put forth as an explanation for why minimalism is dying is that it's risky to run in minimalist shoes. There have indeed been lots of injury reports from minimalist runners, and I have no doubt that running in a minimalist shoe puts greater stress on the feet and ankles. In that sense I think it's completely fair to say that minimalist shoes are not a risk-free cure-all for running injuries. Risk of certain types of injuries (e.g., metatarsal stress fractures) likely does go up, at least until the feet adapt to running in less shoe. Some people may never be able to run comfortably in a minimal shoe.
However, it's also important to recognize that form changes like the shorter stride encouraged by barely-there footwear may be beneficial in reducing stress at places like the knee and hip. It's all about tradeoffs. Risk of some types of injury might be higher in minimal shoes, risk of other types of injury might be lower. 
The big question is whether risk of injury from running in minimal shoes is greater than risk from running in more traditional running footwear. It appears that it is not. For example, data from an Army study presented at the recent ACSM meeting showed that recruits in minimal shoes were at no greater risk of injury than recruits in more traditional footwear. One could even look at this result as showing that all the cushioning and gadgets in traditional running footwear don't protect a runner any more than a minimal, stripped-down shoe.
So, is there a risk associated with going minimal? Yes, some parts of the body will experience increased risk of injury, and this risk will likely be elevated if too rapid a transition is made. But, minimal shoes don't seem to be any riskier than traditional footwear, and they might actually be beneficial if we give credence to reports of people overcoming injury by going minimal (and I see no reason not to believe these people as different shoes apply force to the body in different ways).
Minimalist Shoe Sales Trends
The second argument I see put forth in supporting the "minimalism is dead" meme is that sales of minimal shoes have tanked. Have they really? First off, how we define minimal is important. If by minimal we mean Vibram Fivefingers, I'd agree that sales have dropped off. But, if by minimal we mean something more along the lines of not in the traditional motion control-stability-neutral 12mm drop spectrum, then I question the validity of this analysis. For example, Nike Free shoes are among the best selling, if not the best selling, shoes in the US right now. Granted they are mostly a fashion item, but so are most other running shoes.
In the May 2013 sales report from SportsOneSource we find the following statement: "Sales of Minimal/Barefoot Running Footwear, net of Nike Free, declined by nearly 30 percent and were only 4 percent of all running shoes sold. Sales of Nike Free gained more than one-third." But, when you look at the accompanying pie chart you find the following: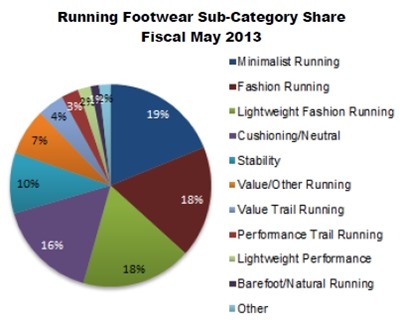 Minimalist is the biggest wedge there at 19%. I can only assume that Nike Free is included in that wedge which explains its size, but the SOS analysis always removes it from the category in the written analysis on the belief that it is more a fashion shoe than a running shoe. Not sure then what is included in the "lightweight fashion running" category. It's also worth pointing out that the SOS data includes sales from places like sporting goods stores, department stores, family footwear stores, discount shoe stores, etc. Not necessarily places that runners are shopping.
To get a better picture of how things look specifically in the running market, we can turn to Leisure Trends Group's monthly reporting data. I went through the last 16 months of run specialty sales reports from LTG and compiled them into the following table – each number represents the percent change in dollar sales in each footwear category at run specialty relative to the same month in the previous year (green means increased dollar sales, red means decreased relative to that month in the previous year; darker colors indicate double-digit change):

(click on the image above for a larger view)
Data on minimal shoe sales were not always reported the same way, and sometimes they were not reported at all, but I think the table gives a good flavor for trends. What you'll notice is that shoe sales as a whole at specialty retail were pretty lousy this past winter (it was a rough winter for running outdoors compared to last year, at least in my neck of the woods). If anything, minimal did better in terms of relative growth compared to more traditional categories in Dec 2012-Mar 2103, though the total dollar sales of minimal shoes is small relative to the traditional categories (see below). Even looking at April 2013 sales, though minimal as a whole did not do as well as other categories, it seems that the numbers were brought down by reduced sales of minimal trail shoes. Minimal road shoes experienced a 10% increase in sales in April relative to last year. The big thing that sticks out to me here is not that minimal is tanking, it's that trail shoes and motion control shoe sales are tanking at run specialty.
In terms of relative market share at run specialty, we can look at the LTG data from February 2103 to get an idea of how things break down (Feb was the last time dollar amounts for all categories were reported).
Stability: $20 million (42.6%)
Neutral: $18 million (38.3%)
Minimalist: $4 million (8.5%)
Motion Control: $2 million (4.3%)
Racing: $2 million (4.3%)
Trail: $1 million (2.1%)
So yes, minimal as a category (not sure how it is defined by LTG) is still a small portion of overall market at run specialty. Furthermore, we are not seeing the the level of growth that was seen back in early 2012, which suggests to me not that sales are down so much as that the market for minimal shoes has matured. In fact, the only month where sales were down relative to last year was a month in which sales for all other categories were down equally or even more.
One other interesting data point arrived in my inbox this morning from LTG in the form of an Independent Shoe Store Market Summary. My assumption is that these are generalist stores that sell both running and fashion shoes (much like my local store Joe King's). For Jan-April 2013, here are the top six running brands at independent shoe stores: New Balance, Brooks, Asics, Saucony, Nike, Merrell. I was surprised to see Merrell there, and the report highlights the fact that "Merrell's minimalist styles jumped 31% with names like Bare, Crush Glove and Mix Master."
So what's the take-home here? If you read the SportsOneSource data then minimal are down big time if you ignore Nike Free and recall the varied retail sources that they pull their sales data from. If you look at Leisure Trends Group data from running specialty stores then it's clear that growth of minimal as a category has slowed, but has not declined (except for minimal trail which may be a victim of the overall sharp decline in trail shoe sales as a whole). And at independent shoe stores minimal lines like Merrell Barefoot seem to be doing quite well so far in 2013. Unfortunately, shoe sales through the big box, discount, mall, sporting goods, etc. channels are huge compared to sales at specialty running, and have the ability to drive what is developed and pushed on the market, so sales to non-runners may influence what type of shoes are available to runners.
Some final thoughts:
1. I still have no idea how minimal is defined by any of these organizations.
2. You have to consider the data source and the type of consumer represented when trying to interpret trends for the running market.
3. The data from the next few months (Spring-Summer sales) will be telling as to the health of minimalist as a category at specialty running. I'll share the data as I get it!