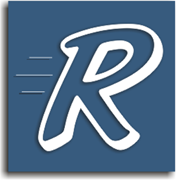 When I was deciding on a title for this blog, I chose Runblogger because my intent was to write about both running and blogging. Those were my two passions at the time, and they remain my two biggest passions today. As with any of my passions, I tend to take an almost obsessive approach to researching them, figuring out best practices, and implementing what I learn. I applied this approach to running shoes and form, and the outcome ultimately was my book, Tread Lightly, and the content that fills this blog.
In the background, I've also done a huge amount of research on the art of blogging, how to leverage social media, web design, etc. I taught myself basic HTML, I understand a bit about CSS, and I can make modifications to the backend of Runblogger without too much difficulty at this point. Early on in the life of Runblogger, I used to write about some of the things I figured out (you can see my "blogging" stream here), but running sort of took over and I left most of that behind.
In the four years since I launched Runblogger, I've developed a modicum of success as a blogger. This site now reaches 120,000 unique visitors, and receives 600,000+ pageviews per month. I'm blessed by this success, and it's made it possible for me to realistically consider giving up my day job (I'm taking a leave of absence from my academic position starting in May).
The reality, however, is that I started from absolutely nothing. For a good six months my only readers were probably members of my family. I don't think my wife even read much of what I wrote (she still doesn't!). However, I stuck with it, kept plugging away at the computer, and readers slowly appeared. In other words, it took good, old-fashioned, hard work. I'm still fascinated by the art of blogging, and more often than not the books I read are on topics related to blogging, not running.
My interest in blogging is part of what drove me to get involved in the development of Run Radar, a site with a mission to support independent content producers in the running niche. We're still working on it, but I'm excited about where we are headed. Last week I spent a good amount of time on Google Reader subscribing to the 100+ feeds that have been submitted to Run Radar so far (sadly, the announcement of Google Reader's impending demise came the day after I finished…I'm now using Feedly). In cleaning up some old feeds I noticed how many of the running blogs I subscribe to had apparently ceased posting years ago, and I wondered in each case why?
Attrition is huge in the blogging world. People start out with great intentions, then lack of time, lack of content ideas, or perhaps a lack of perceived personal benefit lead to a dwindling of the initial motivation that led to the creation of the blog. So why is it that some blogs stick around and grow, whereas others fade away? Quite simply, I think it's because growing a blog takes an immense amount of work, and the benefits can take a long time to realize themselves.
So what do I think is the secret to blogging success? Obviously hard work is critical, but I think the even bigger factor is perseverance. Even with an incredible amount of effort, it takes time for a site to catch on. It may take months, it may take years, it can be hard to predict. The key is you have to stick with it. To use a running cliché (this is a running blog after all!), building a blog is more like a marathon than a sprint. Keep providing good content on a consistent basis and good things will follow.
If proper pacing is the key to finishing a marathon without hitting the wall, what's the best way to last for the long haul in the blogging world? I'm going to turn to another running blogger, Zak Branigan, for help with this.
Recently I read a post by Zak titled "On the Meaningful Running Blog." In his post Zak discusses something most of us in this niche learn very quickly – reviews bring the traffic. But, writing a blog consisting solely of shoe reviews would get tiring fast (believe it or not!), and we each need to have that other "something," that hook that defines who we are as writers and keeps us coming back to the keyboard. In other words, you need to have an angle that allows you to be creative in a way that keeps you motivated to write.
Here's how Zak puts it:
"I want this blog to be more and more a reflection of who I am as a person and a writer. I want to evoke my readers to get outside, to embrace life, and to challenge themselves. While I am no saint, and even now I struggle with training and weight and the work/life balance, I hope that I am perceptive enough to provide meaningful content…my Nebraska…that truly strikes a chord with you and helps you feel like you are not alone out there."
I boil it down to this – if you want to persevere, write about your passions, share what you love, and success will follow. I love running, science, writing, and the social web. And yes, I still love my shoes! In fact, I'm obsessed with these topics, and I've heard it said that obsession trumps passion when it comes to blogging. Identify your passion and write about it obsessively. And then write some more.
For me, I've focused mostly on the running side of this blog for the past several years, but I've been feeling a strong tug lately to write more often about blogging, hence this post. This tug has come in part from the fact that I've recently received a lot of questions about blogging from readers, and I simply don't have the ability to answer them all to the extent that I would like (my inbox is my nemesis). As a result, I've contemplated adding a "Runblogging" column to resurrect that end of this blog. The goal would be to provide thoughts and tips on things I've learned as I've navigated my way through the development of this site over the past 4 years.
I'd love to be able to give something back to the community that has given me so much, so if you have any questions or topics that you think would be a good fit, fire away a comment below and I'll do my best to answer in a future post!