A big part of successful blogging is maximizing productivity – blogging requires a lot of time and effort, and any tool that makes the job easier is a welcome addition to the blogger's toolkit.
In this post I thought I'd share a few tools that have become part of my blogging arsenal. One is a tool that I've been using for years, and the others are tools that I've just started playing with that hold a lot of promise.
I run this blog on Google's Blogger/Blogspot platform. There's a lot that I love about this platform, but one thing that I don't like very much is the post composition interface. Quite frankly, I hate composing posts in my web browser, and I've found the Blogger post composition interface to be particularly cumbersome (I particularly hate when my formatting gets stripped as I alternate between the WYSIWYG and HTML editors!). A few years ago I started playing around with Windows Live Writer, and it has become my primary tool for posting material to Runblogger.
Live Writer is a desktop blogging client that is somewhat like a blogging-specific version of Microsoft Word. It allows you to compose posts, insert and edit photos, tweak HTML, and post directly to WordPress, Blogger, etc. You can also save posts in progress and come back to them at a future time, as well as post drafts to your blog. Below is an early draft of this post in Live Writer: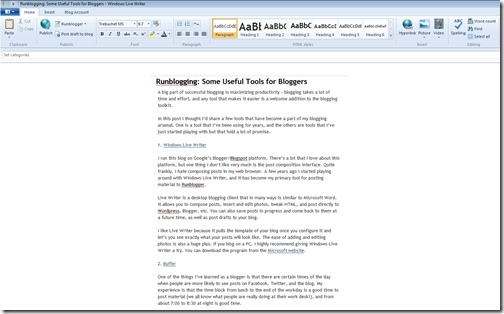 I'd estimate that 95% or more of the posts I've written in the past two years were composed and edited using Live Writer. I like the program because it pulls the template of your blog once you configure it and let's you see exactly what your posts will look like. The ease of adding and editing photos is also a huge plus. It does crash on occasion, but in my experience is pretty good a recovering posts when that happens and I don't think I've lost anything major since I've started using it.
If you blog on a PC, I highly recommend giving Windows Live Writer a try. You can download the program from the Microsoft website.
2. Buffer
One of the things I've learned as a blogger is that there are certain times of the day when people are more likely to see posts on Facebook, Twitter, and the blog. My experience is that the time block from lunch to the end of the workday is a good time to post material (we all know what people are really doing at their work desks!), and from about 7:00 to 8:30 at night is a good time (ignoring the whole time zone thing…).
Unfortunately, it's not always the case that I'm free to post material to my social media accounts during high traffic times of the day. Enter Buffer. Buffer is an app I've been using for a few weeks that allows you to schedule Tweets, Facebook Page posts, etc. If I read an article that I like at midnight, it might not be all that effective to share it at that time. Rather than shooting it right to Twitter/FB, I can instead send it to Buffer and it will post it at a time I can specify in the app settings. It's also a great tool for spreading posts out throughout the day rather than in a short bursts.
Below is a screen capture from my Buffer account page: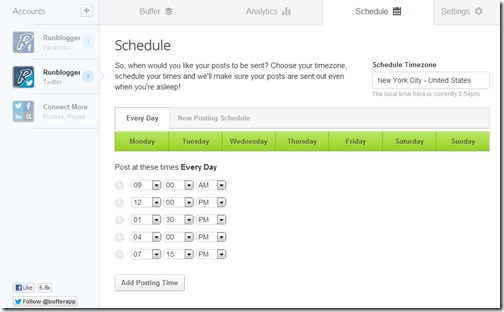 Buffer has a free plan that let's you configure a few accounts (as you can see in the above screen capture, I had originally configured one Twitter account, and one Facebook Page). You can also pay for a pro plan which offers the ability to include additional accounts as well as add a collaborator. I've been liking it enough that I just upgraded to the Pro plan yesterday.
You can check out Buffer here.
3. Feedly
Google announced a few weeks ago that they would be retiring Google Reader this July. I use Google Reader as an RSS feed aggregator to power my blogroll, but generally did not use it to read content. After the news of Reader's impending demise came out I started looking for alternatives with similar functionality. Feedly came to the rescue with an announcement that they would be duplicating the Google Reader experience.
I set up a Feedly account and it immediately pulled in all of my Google Reader feeds and category groupings. I've since been using Feedly a ton to read posts from blogs submitted to Run Radar, and have been using it to Tweet links and add them to my Facebook page (via Buffer, which works great in tandem with Feedly). The interface is highly customizable and works great on my iPad Mini and in Chrome via a plugin (there's also one for Firefox) . In the few weeks that I've been playing with Feedly I've probably read more posts on other running blogs than in the past six months combined!
Here's a screen capture of my Feedly interface in Chrome: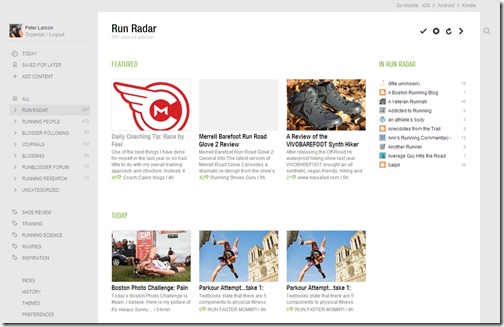 Feedly is free, I highly recommend giving it a try!
How about you, any blogging or writing tools that you find indispensible?