I tend to focus my efforts on reviewing shoes here on Runblogger. However, if I had had to identify a second love it would probably be jackets. Unfortunately, there's really not that much to dissect when it comes to most running apparel. Most don't really affect your performance all that much, and a bad jacket or shirt is not likely to injure you (though a bad pair of shorts can do some damage…). As such, I tend to turn down most offers that I get to review running apparel.
A couple of months ago Merrell sent me a bunch of shoes that are grouped into a new collection that they are calling M-Connect. The gist of the collection is that they are offering way to allow people to connect to the outdoors in gear that best matches their personal preferences. You want ultra-minimal for maximal connection? Try the Vapor Glove. You want something a bit more rugged for trail running? Try the Mix Master. You want a low-drop, light hiker? Try the Proterra.
In addition to footwear, Merrell has included apparel in the M-Connect collection, and they sent me a couple of jackets and a pair of shorts to try out. One of the jackets they sent me is called the Torrent Shell, and I've fallen for it in a big way (disclosure: the jacket was provided free of charge as a review sample).
The Torrent Shell is essentially the Vapor Glove of running jackets. It's a wispy, barely there jacket that does a remarkable job of blocking wind. I've worn it on almost all of my recent runs, and I also used it almost all of last week on an unseasonably cool vacation in Disney World.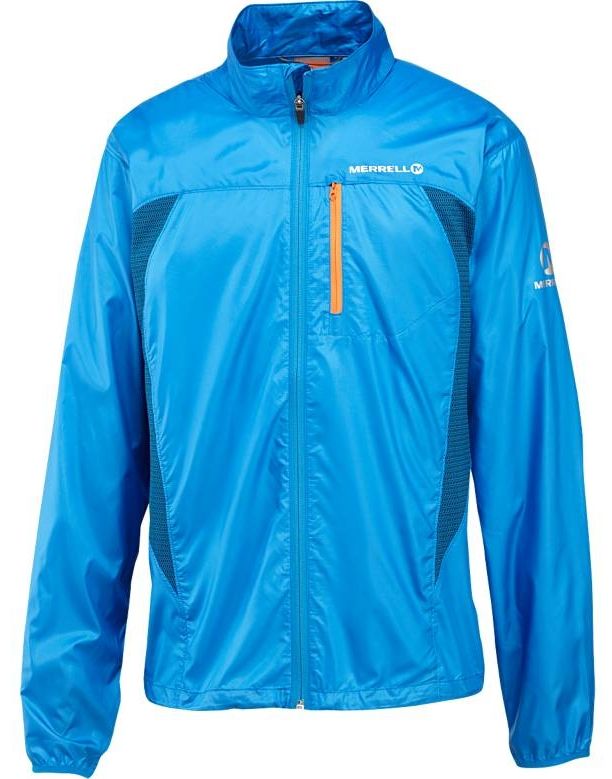 The Torrent Shell is not a jacket that will keep you warm by virtue of insulation. It's not something you'd wear to stroll around town in freezing weather. But if your intent is to be active outdoors in windy, cool weather it provides just enough protection from the elements, and it does in a very unobtrusive way. This jacket is crazy-light – it feels as if it's made of tissue paper. It also packs down into the chest pocket into a ball small enough to be carried in the pocket of a pair of cargo shorts (did this a bunch in Florida last week).
If I have one concern about the Torrent Shell it would be durability – I'm not sure how well a jacket this minimal will hold up. It's doing fine so far, and for a price tag of nearly $90 I'm hoping it lives a good, long life.
The Merrell Torrent Shell is available for purchase at Merrell.com or at Wiggle.com outside the US.