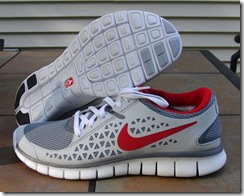 In addition to being interested in the science of running form and footwear, I also have a bit of an interest in the business side of things – can probably thank my father for that. Thus, I like following the market information provide by sources like SportsOneSource (Matt Powell's updates are fantastic), Leisure Trends, and Running Insight.
To give you an idea of the current state of the running shoe market, I wanted to first share some data provide by Leisure Trends on Running Specialty Retail Sales for December 2011. LTG reports that December sales at running specialty stores increased by 13% relative to 2010, sparked in part by the warmer than usual weather and less snow across the US compared to 2010. They go on to break down sales of running shoes by category, with comparisons to sales in December 2010:
Road running shoes, 89% of all shoe dollars sold, pulled in $37M, a 19% increase over December 2010. Neutral/cushion shoes did best within the road running category gaining an impressive 35% to total $17M for the month. Both minimalist ($2.8M, +110%) and traditional ($14M, +26%) models contributed to the gains. Stability shoes also did well bringing in nearly $18M (+10%).

Less snow meant cleaner, drier trails this December and that helped trail running shoes to a 67% dollar increase over last year. The category totaled $1.6M as ARSP rose 6% building on the 58% unit jump. While minimalist models drove the growth ($562K, +658%), traditional trail running shoes ($1M, +17%) saw a boost as well.
Not reported in the quoted text above is the fact that motion control shoes are the only category that saw a decline relative to 2010 (-2%). Of note, largest relative increases were in minimalist road shoes (+110%) and minimalist trail shoes (+658%). If my math is correct, these numbers indicate that minimalist shoes were about 16-17% of the running specialty road shoe market in December, and minimalist shoes were about 36% of the trail shoe market in December (note – I'm not exactly sure what LTG includes in the minimalist category).
For another take, here's what Matt Powell of SportsOneSource and Princeton Analysis had to say in his 4th quarter 2011 sales report:
"Running remained a strong category even as sales improved about +10% in units and dollars.  Nike Running sales grew in the low singles and took 54% share. Reebok Running doubled and share nearly doubled to 11%.  Asics grew in the low singles as share hit 11.5%. New Balance declined in the mid singles while Adidas grew in the high singles.  Under Armour Running doubled and share hit 1.3%.  The Core Running brands (Saucony, Mizuno and Brooks) all had solid performances.

As we have seen for a while Lightweight is now cannibalizing the traditional Running categories.  Stability declined in the high singles and Cushioning in the low singles.  Lightweight Running grew about 75% and represented 30% of all Running shoes sold for the quarter. In Lightweight Nike has a 45% share, Reebok 32%, and Adidas 5%.

Minimalist Running (a subset of Lightweight) grew more than double for the quarter, and represented about 9% of all Running.  Nike has 71% share of minimal driven by the Free franchise.  Vibram, Merrell, New balance, Asics and Saucony each have about a 5% share."
It should be noted that the above data are from sales at U.S. Sporting Goods, Athletic Footwear and Outdoor specialty retailers, so not quite the same pool as the Running Specialty data provided by LTG (e.g., I doubt Reebok has that big a market share among running specialty…). The Nike Free Run+ was one of the top 5 selling athletic shoes of any type (including basketball shoes) in Q4, and if my students are any evidence, this does not surprise me at all. Comparing these numbers to those from LTG suggests that minimalist might have a bigger market share in running specialty than it does in other sales outlets.
What to make of all of this this? My take would be that the move to lighter shoes and away from more traditional models is continuing (evidenced by the fact that it now represents 1/3 of the running shoe market). As an aside, I asked Matt Powell on Twitter what constitutes lightweight running, and he indicated that the category includes shoes that weigh under 10 oz. Minimalist, which is a subcategory of lightweight, still represents a relatively small percentage of the running shoe market, but it is continuing to grow. I think what we are seeing is a gradual realignment of the shoe market that has been driven by the minimalist movement. Folks who are not keen on running in shoes like a Vibram Fivefingers or Merrell Barefoot are experimenting with lightweight, transitional options like the Nike Free, Saucony Kinvara, Brooks Pure, and so on. And lightweight trail shoes have been red hot for some time.
It will be interesting to see how things shake out going forward, and whether this trend continues. At the very least, I'm feel pretty confident in saying that what we are seeing is not a fad, and does actually represent the new reality of the running footwear market.