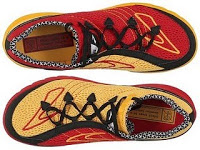 One of the questions I frequently see posed about the new Brooks Green Silence racing flat is why it's not actually colored green? It's the most environmentally friendly running shoe on the market, and it has the word green in its name, so why isn't it green??? The color scheme that has been released, asymmetrical red, yellow, and black (see picture at left), is also the color scheme for the Brooks-Hansons Distance Project team, so presumably that's why that combo was chosen. I for one would like to see a green version of the shoe, and below I'll provide some evidence that such a model does appear to exist somewhere out there in Brooks-land (thanks to @ZakBranigan on Twitter for alerting me to this!).

As a member of Brooks ID, I am part of a Flotrack site where videos are occasionally posted relating to group activities and events. In a recent video, Brooks ID program manager Steve DeKoker is seen holding a version of the Green Silence that appears to combine a lime-green upper with a black sole – a combination that fits the name and environmental message of the shoe far better than the red/yellow/black scheme of the currently released model (don't get me wrong, I do like the red/yellow version).
Fast forward to the 2:00 point of the video below to see what I'm talking about (I'm assuming this is fair to share since they provide an embed code!):
I recently reviewed the Brooks Green Silence, and can say that it is currently one of my favorite shoes to run in. It's lightweight, has a low heel, is extremely comfortable, and has a very fast feel. Should Brooks decide to release a "green" Green Silence, I'll be one of the first in line to buy it once my current pair wears out.
Update 5/23/2010: Brooks has announced that it will be releasing a black/green color scheme (different than the one in the video above) for the Green Silence in August – see image below: