If you've been reading this blog for awhile, you're probably familiar with my preference for running in marathon racing flats. Shoes like the New Balance 1400, Asics Hyperspeed, and adidas Adios Boost are among my personal favorites, and are among the shoes I would choose from if I had to have one all-purpose shoe for all of my running. Over the years, I've heard that this class of shoe is very popular in Japan (for example, see here), and that there are a number of models available in that market that are not available here in the US.
Several weeks ago Running Warehouse started stocking several Asics flats from Japan, and they sent me two pairs to try out for review (Disclosure: these shoes were provided free of charge by Running Warehouse for review purposes). The models I received were the Lyteracer RS 4 and the Tartherzeal 3 – I've run in the latter only once or twice so far (it's more of a speed flat – think Saucony A6 – so will take a bit longer to get miles on), but have put quite a few miles on the Lyteracer. I have to say that I'd rank the Lyteracer right up there with the 3 shoes mentioned in the opening paragraph – it's a fantastic distance racer and is one my favorite shoes that I have run in so far this year.
One of the things I love about distance racers is their stripped-back simplicity. No frills uppers, light weight, and simple soles with a platform that doesn't extend much beyond the margins of the foot are what I look for in shoe like this. Add in a forgiving heel and a firm, responsive forefoot and you have the makings of a perfect shoe for me. The Lyteracer RS 4 ticks al of these boxes, and I've really enjoyed running in them so far.
Specs
Let's start with some specs. According to Running Warehouse, the Lyteracers weigh in at 7.3 oz in men's size 9, and they have stack heights of 25mm in the heel, and 16mm in the forefoot. As in shoes like the Adios Boost and NB 1400, the 9mm drop does not get in the way – no issues there for me.
Sizing
With the Lyteracer being an import shoe from Japan, there are some quirky issues related to sizing. For example, the largest size available is 11.5 (sorry to those with big feet!), and there is no size 10.5 (my preferred size for a flat). When my RW contact asked me for sizing info, he indicated that most of the staff at RW who have tried them have gone up a full size without issue. As such, they sent me an 11 (full size up for me from my training shoe size), and though just a tad on the long side, they have worked out just fine. I would compare the width to the NB 1400 or Adios Boost – snug but not tight in the forefoot, very comfortable overall.
Upper
The upper of the Lyteracer feels almost like a throwback – old-school mesh with faux-suede overlays. I actually really like it, and it seems like it will be more durable than some of the newer-style uppers on the market. The interior of the shoe has a lot of exposed stitching due to the sewn-on overlays, so I'd probably not risk going sockless in them. I haven't had any issues while wearing socks.
The pair that I received have a neon yellow upper, and I love the look of this shoe. They're definitely a head-turner due to the brilliant color, and I've received a lot of comments on them while wearing them about.
Sole
As you might surmise from the intro to this review, the sole of the Lyteracer is a perfect match for my stride. Much like the NB 1400, Asics Hyperspeed, and adidas Adios Boost, it has a softish heel and a firmish forefoot. Plenty of cushioning for long distance, but still feels quick enough to use for speedwork. This is a great, multipurpose sole that can handle almost anything I throw at it. I'd even go so far as to say it can handle light trail duty due to the fairly extensive outsole under the forefoot. I've run in them several times on the rail trail in Lebanon, NH and they handle crushed rock very well – don't feel any pointy pebbles or larger rocks underfoot. I probably wouldn't use them were traction is a priority, or on more rugged terrain, but like the 1400 they might be a decent option for fast running on smooth trails.
As mentioned, outsole coverage is extensive, and durability his been excellent so far. There is a also a soft plastic shank under the midfoot to add a bit of longitudinal stiffness, though it's not as stiff as the plates found in some other racing flats.
Conclusion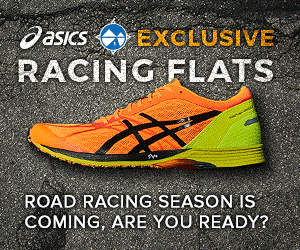 When I was first thinking about what I was going to write in this review, my intention was to say that the Lyteracer is a great shoe, but that similar models could be purchased at a lower price. I hadn't looked at the MSRP, and my suspicion was that they would be expensive since they are imports. Turns out that they are actually very reasonably priced at $89.95 at Running Warehouse, so much cheaper than the Adios Boost and on par with the NB 1400 (though bit more expensive than the Asics Hyperspeed).  Given this, I can highly recommend that you give the Lyteracers a try if you are a fan of distance racing flats. I'm not sure how long they will have these in stock, but I am pretty sure that this will be one of my top 5 shoes of the year. They're that good, and they have me wanting to try some additional Japanese imports!
The Asics Lyteracer RS 4 is available for purchase at Running Warehouse.
For another take on the Lyteracers, check out Sam Winebaum's review at Road Trail Run. For some thoughts on other Asics flats from Japan, see this post on Believe in the Run.