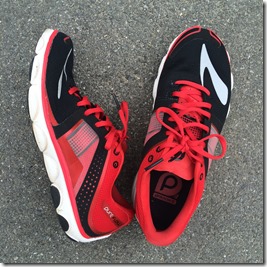 I've had mixed experiences with the Brooks PureFlow series in the past. The PF1 was a solid shoe that provided a springy ride and served me well over longer distance runs. I didn't try the PF2, but came back to the model with the PF3. Version 3 was a nice looking shoe, but I just couldn't get the fit right. A size 10.5 was way too long, and the size 10 I swapped them for were so uncomfortable that I had to take them off after about 10 minutes and never went for a run in them. It felt like they had narrowed the shoe considerably from v1, and it's one of the few instances I can recollect where a shoe actually made my feet ache due to a fit issue.
Given my negative experience with the PureFlow 3, I was hesitant to try version 4. I wasn't planning to buy a pair (I buy more than half of the shoes I review these days), but Brooks offered to send a media sample and I agreed (Disclosure: the shoes reviewed here were provided free-of-charge by Brooks Running). I'm glad that I did as I've had a very positive experience with the latest iteration of the PureFlow.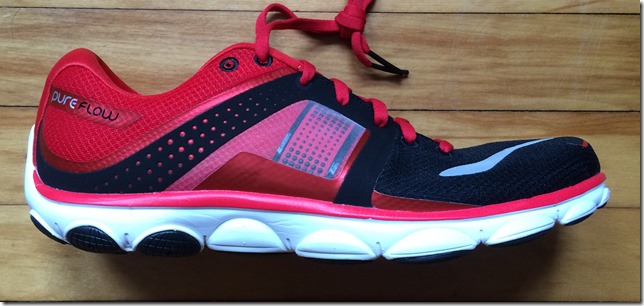 Specs
Per Running Warehouse, the Brooks PureFlow 4 weighs in at 8.9 oz in men's size 9, and sole stack heights are 22mm heel, 18mm forefoot. I wear my normal size 10 in this shoe and length is good.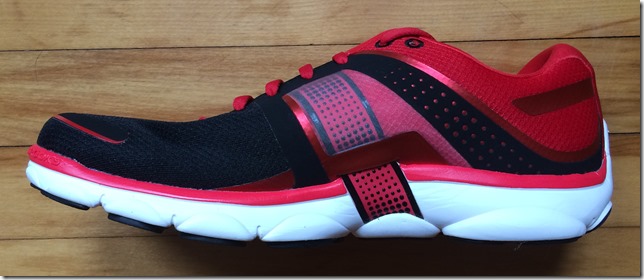 Upper and Fit
Though I still feel like the PureFlow last is a bit odd – kind of long and narrowish – the PF4 fits me far better than the PF3 did. I've run about 30-40 miles in them, with a long run of a bit over 9 miles, and comfort has been very good. This is not a wide shoe by any means, and the upper does not have a lot of give, but I have not experienced any squeezing, pain, etc. as I did in v3.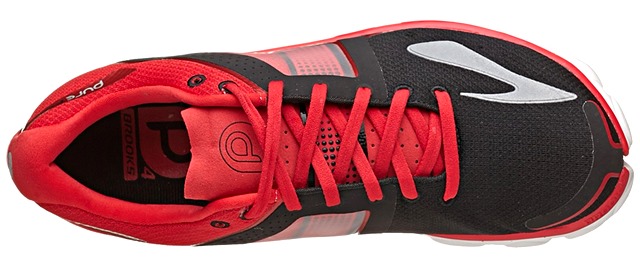 The upper of the PF4 looks great. I'm a big fan of the black/red color combo, and I like the positioning of the Brooks logo on the outer forefoot.
As mentioned, the mesh over the forefoot does not have much give, and this is an area that could be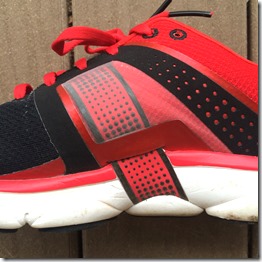 improved. I'd love to see Brooks use a stretchier mesh in this area. The heel region of the PF4 is rather stiff due to a substantial heel counter, but the inner lining of the ankle is incredibly smooth and comfy – love the material they used here. The tongue is well padded, and no complaints about the lacing.
One aspect of the upper that I have consistently disliked in the PureProject shoes is the Nav Band (see photo at left). I don't feel like it accomplishes anything that the laces don't already handle, and it complicates an otherwise excellent upper. Brooks could ditch a little weight and simplify this shoe by getting rid of it.
Sole
The sole is what really makes the PureFlow 4 shine for me (it appears that the sole is the same as that in v3). It provides the ride that I had hoped I'd get from the Brooks Launch 2 – soft and buttery smooth. The BioMogo-DNA blend midsole is a perfect match for my stride. It's soft on impact, yet resilient enough to provide some spring-back. The closest shoes I can compare the ride to that I've run in over the past few months would be the Skechers GoRun 4 and the New Balance Zante (two of my current favorite shoes). I've run 9+ miles in the PF4 in a single run with no issues, and would have no hesitation in using this as a marathon shoe.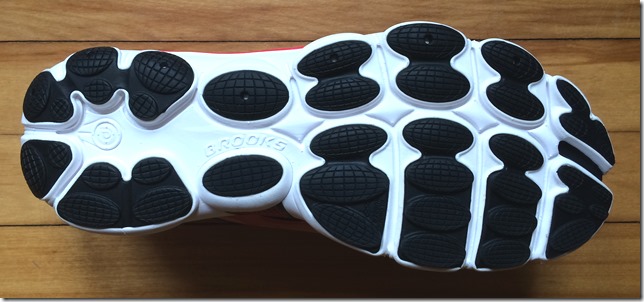 Another aspect of the sole that I like is the rounded-off heel. This both saves some weight, and also reduces the amount of sole that can get in the way of my stride. I wish more shoes would experiment with this type of sole design.
Regarding durability, there are rubber outsole pods covering the entire length of the shoe. I do see some wear in my usual high-wear areas, but it does not seem to be progressing as quickly as what I experienced with the Brooks Launch 2 or Ghost 7. I expect that the PF4 would hold up well for several hundred miles.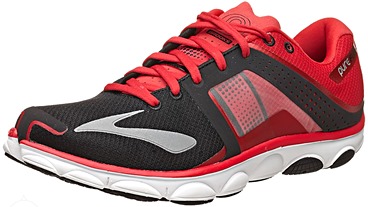 Conclusion
The Brooks PureFlow 4 is one of my top five shoes so far this year, and one that I would consistently grab for longer, slower miles on the road. It's not a fast shoe, but it isn't intended to be that. Rather, I'd call this a lightweight training shoe or a half/full marathon racer. I'd put it up there with the Skechers GoRun 4, Saucony Kinvara (just got v6 – stay tuned!), and New Balance Fresh Foam Zante in that category – not bad considering how awful my experience with the previous version was. If you're looking for a softish lightweight trainer that can work for marathons, the Brooks PureFlow 4 is definitely worth a try.
The Brooks PureFlow 4 is available for purchase at Running Warehouse, Amazon.com, and Zappos. Purchases through these links help to support this site – thanks!