Winters where I live can be hard, but my disdain for the treadmill generally keeps me outside unless conditions get really bad. This winter started off pretty tame up here in New Hampshire. We had cold, but not much snow through early January, and I was able to use road shoes for most of my runs. Sidewalks started to ice over a bit in January, and we had a few light snow storms, which made running outside in road shoes a bit more of a challenge. And over the past couple of weeks we've been hammered by multiple storms and roads and sidewalks near my home are now virtually impassable.
For the most part, I can get by with a decent pair of lugged trail shoes for most winter running conditions. They handle crusty ice well, and deeper snow generally means I'll opt to snowshoe rather than run unless the sidewalks have been cleared (roads near my house are too dangerous when bordered by big snow banks). However, there are times when the roads/sidewalks are covered by smooth ice and/or a thin layer of snow and adding some additional traction is helpful (e.g., such as when my street looks like the photo below taken this morning…).
The road in front of my house right now…
Over the past two winters I've tried out three different running traction devices: Stabilicers, Kahtoola Nanospikes, and YakTrax Run Cleats. None are perfect, but all do the job in a pinch. I thought I'd share some thoughts on the pros and cons of each to help you make a purchasing decision should you need a traction device for your winter runs.
I'll start by saying that all 3 devices provide decent traction on light snow and ice, and so in that sense they all do the job they were built for. However, don't expect these to be a replacement for snow shoes in deeper snow as the metal spikes/lugs on all three are short and will not reach the ground on deeper snow that is packed down by the feet.
Stabilicers Run
Stabilicers are made in Maine (USA) by a company called STABIL. I'm starting with them because I feel like they provided the best "bite" on ice of the three devices in this review. Unlike the Kahtoola and Yaktrax devices, Stabilicers utilize what look like screw type lugs with a concave center. The lugs are embedded into a flexible rubber base, which also has rubber lugs. The combo works really well on ice and snow covered asphalt.
Another plus for the Stabilicers is that they stay put well on my feet. They include a velcro strap that can be trimmed to fit your foot, and that helps secure them in place. However, I would have liked to have seen a more finished, integrated strap like on the Yaktrax product.
I expect that durability of the Stabilicers should be good – the rubber frame is made of thick bands, and the underfoot components are solid rubber.
On the down side, I found the Stabilicers to be the most difficult of the three to get on my feet, and the sizing seems to be a bit off as I really had to stretch them out to get the heel to fit over the back of my shoe. I still feel like the heel lugs were a bit too far forward. They are also a tad narrow in the forefoot and really had to wiggle them onto my Nike Wildhorse II trail shoes. Don't try these with an Altra! I have them in a size Medium which is supposed to cover up to a 10.5 shoe size, but they did feel small on my 10.5 shoe. Being a borderline size is sometimes a challenge, and I'd suggest that you consider sizing up if you are borderline between two sizes.
Below are two photos of the Stabilicers on my feet from a recent run (shoe is Nike Wildhorse II).
MSRP for Stabilicers Run is $42.95. They can be purchased at Amazon.com for a bit less than that.
Kahtoola Nanospikes
Kahtoola, based in Flagstaff, Arizona (USA), is best known for their crampon-style traction devices. Their Microspikes might be great for trail traction and deeper snow, but they'd not work so well if you mainly run on roads. To serve this demographic, Kahtoola has produced a lower-profile traction device called the Nanospikes.
The Nanospikes feature 10 tungsten carbide lugs that do a pretty good job of digging into ice covered roads and sidewalks. The lugs are a bit shorter than those on the Stabilicers however, which might explain why the latter seemed to grip a bit better. I like the fact that the lugs are secured in a firm rubber base, and that they are integrated into wide plates. I expect this should improve durability (see comments on Yaktrax below).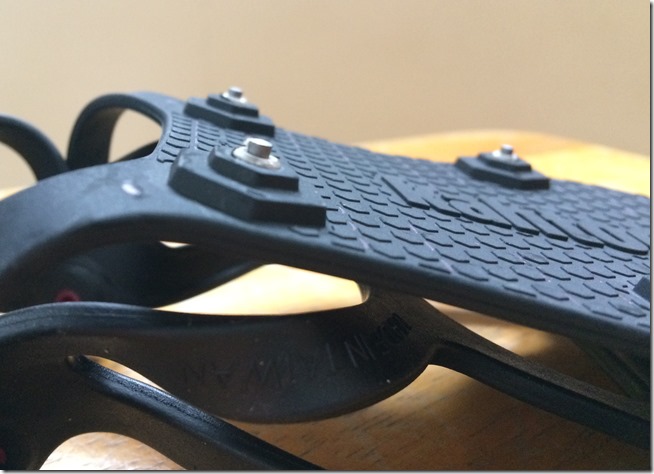 Unlike the Stabilicers, the Nanospikes are quite easy to put on, little wriggling needed. On the negative side, I had issues with them staying in place on my first run. The forefoot kept slipping medially off of my shoe (see photo below) – I'd like to see some additional reinforcement bands in this area, or perhaps addition of a velcro strap would help. I did contact Kahtoola about the issue since I'm again a borderline size, and they sent me a medium to try instead. These stayed put much better, but I still think the Nanospikes would benefit from a more robust securing system around the forefoot.
One other issue I had with the Nanospikes was that one of the metal links connecting the base plate to the front of the forefoot put pressure on my big toe from above. It seemed to go away while running, but the pressure was quite noticeable when putting them on.
Make sure you get the right size…
MSRP for the Kahtoola Nanospikes is $49.95. They can be purchased at Amazon.com.
YakTrax Run
The YakTrax Run cleats combine carbide steel studs under the forefoot (similar to the studs on the Kahtoola Nanospikes) with traditional YakTrax coils under the heel. The combo provides good traction, and they are fairly easy to put on. I particularly like the fact that they have a velcro strap to help secure them on the forefoot – they stay in place quite well.
My main problem with the YakTrax Run cleats is that the metal studs are embedded in a plastic base, and after a few runs I could see some of the studs bending out of place within the base, and the plastic base even broke on one of them (see photo below). The stud plates are replaceable, but I'd expect better durability than I experienced for a product like this. My buddy Nate also had durability issues with his pair, and there are some similar complaints on Amazon about the studs shifting/bending, so my experience was not an isolated one. For this reason I'd recommend the Kahtoola or Stabilicers products over these.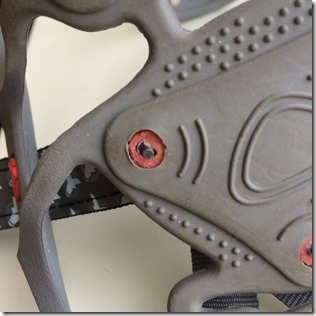 MSRP for the YakTrax Run cleats is $39.99. They can be purchased for a bit less than this at Amazon.com.
Conclusion
Among the three products covered here, I can recommend the Stabilicers and Kahtoola Nanospikes, but durability issues make me hesitate to recommend the YakTrax Run cleats. Between the Stabilicers and Nanospikes, I feel like the former provide slightly better traction and they feel very secure on the foot. They also feel very well-made and I expect durability will be good. The Nanospikes are lighter, lower profile, and easier to put on, all pluses. However, you may have to experiment a bit if you are a borderline between sizes as if they are too large they may shift around under the forefoot. If you tend to wear shoes with a wide toebox, I think the Nanospikes will be a better fit.
As an alternative to all of these options, you can also save some money and make some screw shoes – directions for this can be found here.
Disclosure: All products written about in this post were provided free of charge by the manufacturers for review purposes.