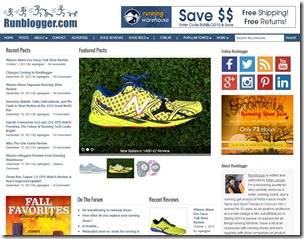 Four and a half years ago I started Runblogger on Google's Blogger platform. Blogger is a great service, and I learned a lot about web design by using it (you need to know a bit of HTML and CSS to modify Blogger templates). However, over the past few months I'd come to realize that there were some limitations to using the platform that could be overcome by moving to a self-hosted WordPress site. I decided to make the switch back in September, and as you can see the move is now complete (mostly…more on that below).
I have a bunch of reasons for leaving Blogger for WordPress, and these included:
1. I wanted to have full ownership of my site. Google has stopped development of or eliminated a lot of services that I have used in the past (e.g., Feedburner, Google Reader), and though I don't think Blogger will go away, self-hosting my site would prevent this from becoming an issue should it happen someday. I now own the domain and pay for premium hosting at WPEngine via Folivision (I decided to opt for premium hosting for security and site speed reasons).
2. Greater design customization flexibility. WordPress allows much more flexibility in designing custom templates for pages, basic design is easier, and it has loads of plugins that offer lots of functionality. The new site was built on WordPress using the Genesis framework and the Dynamik Website Builder (I've done most of the design work myself). I have found this combo to be very easy to use and it allows for a great deal of customization of the design without having to dig too much into html or CSS (though I've come to enjoy doing). I've actually now used the combo of Genesis and Dynamik on a few sites and I highly recommend it.
3. I wanted to move the Runblogger forum under the same domain as the blog. I couldn't do this if I stayed on Blogger. The Forum was moved from its own domain to it's new location at www.runblogger.com/forum.
4. I wanted a friendlier mobile design (have received numerous requests for this in the past). This is still a bit of a work in progress, but if you access Runblogger from a smartphone now it should be much easier to navigate and read than the old site. You can get a sense of what the responsive design of the new site is like by playing with the size of your browser window – you'll see sidebars disappear and things move around to accommodate the changing screen size. Pretty cool!
5. I wanted to change my comment system away from Disqus since I felt like it slowed my page loads and I often received complaints about comments getting eaten when trying to post. For a new commenting system I chose FV Thoughtful Comments and I'm liking its simplicity quite a bit compared to Disqus.
Migrating a site like this one is not without challenges. I had over 950 posts and 14,000 comments to move, and I wanted to do so without losing anything. In particular, I've built up a lot of links over the years and wanted to avoid any chance that moving the site would hurt my Google rankings. Given that this site is my main source of income now, I decided to hire a company called Foliovision to handle the move (mainly so I wouldn't screw anything up!). The folks at Foliovision are very skilled at doing this kind of thing, and so far it looks like everything transferred over without a hiccup, and all looks good with Google. Foliovision also handled moving my forum for me, and short of a few issues with logins that went smoothly as well (login issue should be fixed now thanks to Ivana at Foliovision, if you are having trouble let me know). I'm very happy with the work they have done.
My goal with the new site design was to make it cleaner, with a wider reading pane, yet maintain the advertising that I rely on for my income. I'm still playing with the right mix, but I'm pretty happy with the way things look so far.
I still have some things to work on to get the new site set (like the fact that WordPress stripped out all of my YouTube video embeds…), and if you notice anything that is a problem or have any suggestions, please let me know!