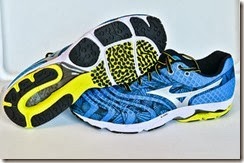 This is a guest review by Brad Patterson. Brad is an electrical engineer by trade, and lives in Grand Rapids, Michigan. – Pete, Runblogger.com
Unlike a lot of other Wave Sayonara reviewers that I have come across on the internet so far, I am not a mega huge Mizuno fanboy and only recently started using their shoes (after the now-known-to-be-false announcement of the impending doom of the Brooks Launch).
My first Mizuno shoe was the Wave Precision 13, and while I like to use it for long runs and recovery runs, I sometimes find it to be "too much" shoe to be used as my everyday workhorse.  So, when I first heard about the upcoming Sayonara, read the specs, and saw all of the promos about it, this sounded like a shoe that would fit right in my wheelhouse – medium level heel-toe drop at 10mm, fairly light at 7.9 ounces, and supposedly this would be a "fast" shoe. (Disclosure: These shoes were sent to me free of charge as a media sample courtesy of Mizuno).
It was with much excitement that I was able to get my pair of Sayonaras sent to me before the official release. I need to send out a huge thanks to Seth over at Mizuno for the hookup (through Pete, of course). I got the box, and pulled them out for my initial inspection of the shoe design and a quick photo shoot. [Note: Since the Wave Sayonara is slotted as the replacement for the Wave Precision 13, I will be referencing the Precision a lot in this review and comparing the two shoes repeatedly.]
Initial thoughts from box opening
Feels very lightweight

Really like the colors and the design

The upper mesh seems more fine than the Precision and makes me wonder if it won't let as much air through as the Precision does

Midsole is clearly labeled as "U4ic", pronounced "euphoric", and feels quite cushy. This is supposed to be a new technology from Mizuno that offers just as much cushioning as the AP+ midsole of the Precision, but is a lot lighter in weight 

Feels to me that the sole is very rigid with the waveplate, at least from midfoot back to the heel

Forefoot is reasonably flexible, but still feels fairly rigid out of the box

The design of the upper is fantastic, with all kinds of intricate stitching that looks great.

I really like the "wave sayonara" detailing on the back of the heel. It's almost as if the shoe is saying "wave goodbye" to other runners as you pass them, since sayonara is Japanese for goodbye. *dsc3726*
The upper material has a lot of welded overlays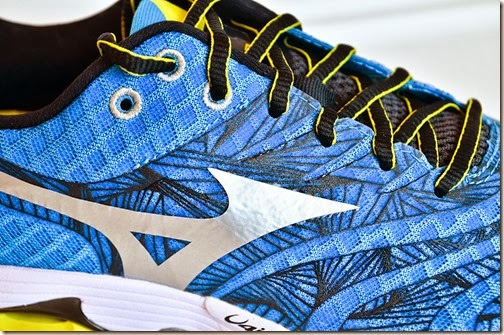 There is a clear film across the front of the toe that wraps around the sides, possibly offering some lateral support – again gives me a little bit of worry over lack of ventilation
The heel counter is quite rigid – similar to the Precision and wraps about the same amount forward on the sides of the heel as the Precision

There is a lot of stitching on the inside, which looks like it wouldn't be great for liner-less sock-free running; but might be ok if you left the sock liner in.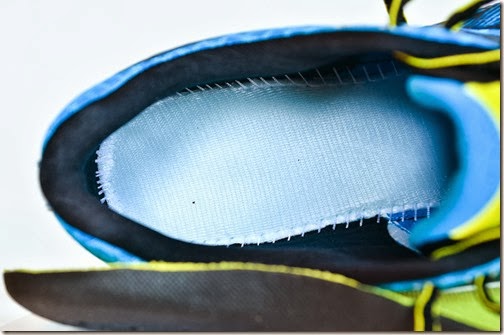 The outsole has very good ground contact all the way from the forefoot to the heel on the medial side, the whole arch area is filled in with yellow (U4ic) midsole foam.
The forefoot outsole has funky little round "nubbies" which look aesthetically awesome, and they might even offer decent grip on rough terrain; but I wonder how quickly they will wear out. [As a side note, the material is listed as "G3" on Running Warehouse, although it looks to me that it might be same material as the X10 which is used on the heel. From my experience with the outsole of the Precision 13, the X10 rubber is very good and lasts a long time with minimal appearance of wear.]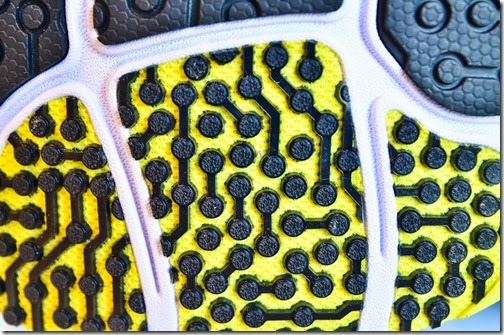 The waveplate is very evident from visual inspection, my guess is that this will offer a very responsive feel/ride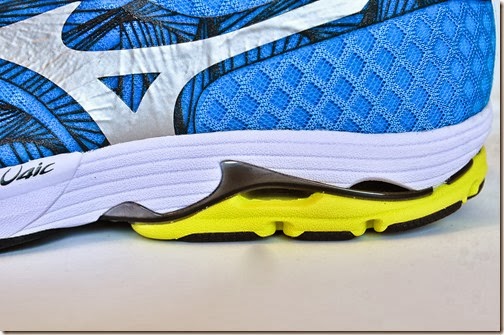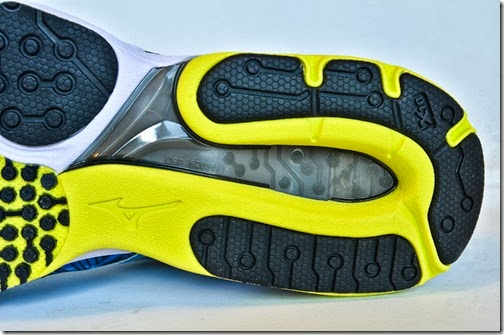 The outsole heel is undercut just a bit
The laces have some sort of "bumpy" texture all along their length, most likely to help hold your knots tight. I ALWAYS double knot my laces anyway, so this doesn't really affect me. But for those of you that aren't double knotters, this might be beneficial.
After a bunch of photo shooting and my initial visual inspection, I had to slip these babies on to see what they felt like on my feet. Here are my first initial impressions:
I definitely could feel that the Sayonara sits lower to the ground than the Precision. I'll hit the specs on the exact stack height in the comparison below.

The fit seems similar to the Precision, except that the toebox is less pointy and more squared off than the Precision. To me this roomy toebox feels great, as it seems to allow a bit more room for the toes to spread out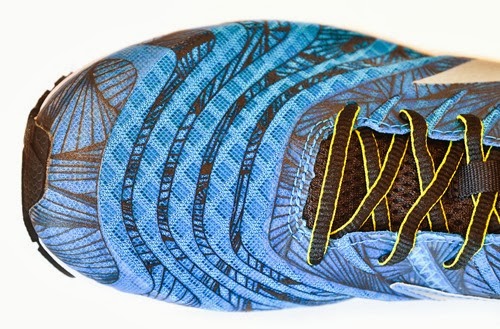 Once I had the shoe on my foot, it felt quite flexible in the forefoot
Shoe details & specs
For the sake of keeping this review a little more to the point and readable than my last Runblogger review (which was for the Karhu Flow 3 Trainer), I'll only list a few more details and shoe specs that I didn't list above and try to keep it to the main specs that most runners are interested in when reading about a new shoe. If you REALLY want to know what sort of space age materials Mizuno employs in the Sayonara, Running Warehouse does a great job covering the shoe specs on their Wave Sayonara page.
cushioning – RW lists the stack heights as 14mm (forefoot) and 24mm (forefoot)

heel toe drop – 10mm

weight – specified at 7.9 ounces for a men's size 9, I measured 9.3 ounces for men's size 10-½ (as a reference, the Precision is spec'd at 9.5 ounces for a size 9, so the Sayonara is quite a bit lighter than its predecessor) 

sizing accuracy – I found the sizing to be accurate, as my normal size 10-½ fit perfectly
color availability – there are 2 color versions, a blue model and a white model. Mizuno refers to them as "Dude blue/anthracite/bolt" and "White/anthracite/lime punch" colors.
Run results and conclusions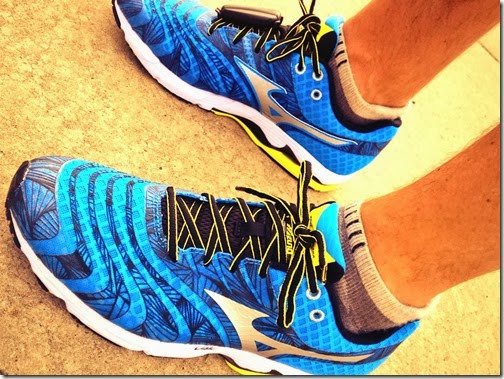 As of this writing, I have 135 miles on my Wave Sayonaras, with most of those miles being on the road. I did run one trail half marathon race in them, so I think I have a good feel for how they perform off road too, which I will detail in a separate section below. I have not done any treadmill miles on them this summer, as I prefer to run outside even if it's smoking hot. I have run a good variety of paved routes though, with some being relatively flat and others being pretty hilly (for West Michigan where I live, that is). I have not had the opportunity to try them in wet conditions yet, as it has been a pretty dry summer where I live.
One of the first things I noticed when I ran in the Sayonaras was how PLUSH they feel. It seemed very strange to me because they don't have a ton of cushion in the forefoot (with a 14mm stack height), but they were really comfortable and my feet felt great out on the first run.  Ironically, I had purchased a few new pairs of running socks that I have grown to dislike for a variety of reasons, but the Sayonara even made those "not so great" socks feel good out on the run.
Second to the plushness of the cushioning and the ride, I noticed how smoothly they ran. It might have been just me and that they fit the way I run well, but I felt that the turnover and the ride of these shoes is fantastic. One of my previous benchmark shoes for a smooth ride was the Brooks Launch, and all I could think after coming back from my first run in these shoes was "Wow, these things are smoooooth, in a very Launch-like way."
Another thing that I immediately noticed was the roomy forefoot. If you look at the shoe from the top, you can see that it has a bit more of a squared off shape than the typical pointy toed front that most running shoes have. It is definitely noticeable out on the run.  I REALLY like this extra room for my toes to splay and wiggle around and I think it helps a lot especially in the warm summer months when it is so easy to get hot spots and annoying blisters on the toes due to rubbing from too tight shoes as well as mega sweaty summer feet.  And even though they have plenty of room in the forefoot, the shoe grips very well around the heel and midfoot and did not feel sloppy at all to me.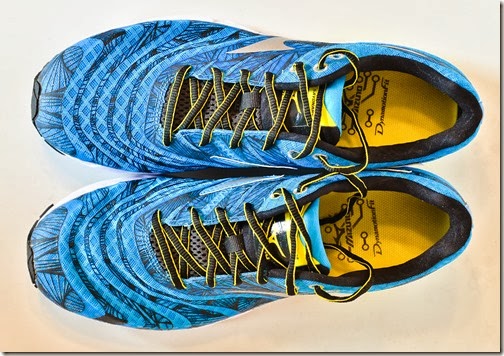 When I am first running in a new shoe, I like to pay very close attention to various irregularities in the terrain and see how much I can feel as part of my "ground feel" test. I run down the road, looking for gravel, cracks in the pavement, manhole covers, and anything else I can try. Sometimes, I even run over sections like this with my eyes closed to see how well I can feel the terrain. I know, not the safest idea in the world, but these are the crazy lengths I go to in order to bring you an in-depth review!! Don't worry, I only close my eyes for 5-10 seconds at a time… I was able to feel the loose gravel and definitely the manhole cover, but the crack in the road that I can very easily detect with a more firm "racing flat" type of shoe wasn't quite as noticeable in the Sayonaras. I personally think this is ok, as I like a little cushion to my ride for an everyday workhorse of a shoe.
Stability in the shoe was very good, I have run a few faster paced runs and even tried making some tight u-turns on my route and always felt stable and in good solid contact with the road. In contrast to my initial "out of the box" impression of the Sayonara feeling fairly rigid, it actually ends up being quite flexible out on the run and I think this improved as I put more miles on the shoe.
In addition to the trail half marathon race, I also did 2 longer training runs in these shoes (a 15 miler and a 17 miler), along with plenty of medium length 10-13 mile runs. My legs did not feel beat up or hammered at the end of these runs. It's very interesting that this shoe works well for fast pace, moderate pace, easy pace, and even long distance runs. As a successor to the Precision, this shoe definitely has less cushion and protection, so some people might prefer to keep a shoe like the Precision for the long runs and even recovery runs, and then use the Sayonara for everything else.  I personally feel that you can do very well in this shoe even for long runs, and it could be a great option as a race shoe for a full marathon.
One interesting contrast that I find with the Sayonara as opposed to the Precision is that this shoe just plain feels fast, and almost "makes you" run fast.  I thought it was just my imagination, but I made a quick spreadsheet chart comparing my run paces (& avg heart rate) for the runs I have done in my Sayonaras to my runs in the Precision. The resulting data was pretty shocking – the Sayonara runs were on average 15-30 seconds per mile faster at a similar effort level and similar running conditions when compared to runs that I did in my Precisions. I'm sure part of this has to do with the lighter weight of the Sayonara, but perhaps it also has to do with the "smoothness" of the ride and how it affects me when I'm out on a run.
As for responsiveness, I have done a handful of tempo runs in the Sayonara and I find it pretty middle of the road. It is reasonably responsive, but I think that due to its softer ride, it is not quite as "snappy" as some of my firmer fast run shoes. Again, I don't think this is a horrible thing, but if you REALLY want to push hard and fast, for example on a 5K race; perhaps the Sayonara might not be your shoe of choice.
A few other random observations:
I really like the lace length on these shoes. They seem just about right, even when I double knot them and I don't have a ton of extra lace flopping around. It seems like most of my shoes end up with waaaaaaayy too much extra lace flopping around, which almost forces you to double knot.

The final lace hole has 3 different positions available, which I think is a nice feature depending on how you prefer to wear the shoe from a tightness standpoint; and if you ever have problems with heel slip. 

Compared to the Precision, I think these shoes are quieter out on a run. It seems like the Precisions sometimes have a "tap tap tap" sound to them when you are cruising along. The slight difference in outsole material sounds quieter to me on the Sayonara vs. the Precision.

The toe box is relatively shallow, but this did not cause me any problems or irritations.

The upper material is some sort of non-stretchy synthetic versus the Precision which has some sort of "natural fiber" mesh which is very stretchy in the toebox area.  Interestingly, both shoes are specified to be using "airmesh" and "dynamotion fit," which are supposedly very stretchy and airy mesh materials, but I found the Sayonara upper material to not stretch at all. I'm assuming that the reason for this non-stretching is the amount of welded overlays that the Sayonara uses. All that being said, I don't think this is a problem for the Sayonara from a fit standpoint due to the very roomy toebox. It may, however, cause your foot to heat up more in the summer months as mine did on a few hot weather runs.
Trail performance from the 2013 North Country Run
Back in late August, I ran the North Country Run trail half marathon in Wellston, Michigan. I ran this race last year in a pair of Brooks Cascadia 6 trail shoes, and I was hemming and hawing about what shoe to wear this year. Knowing that the trail is mainly dirt singletrack, with a bit of sand, but not any mud or water crossings, it seemed like the Sayonara might work for the race. The trail has quite a bit of roots, and some rock sections, but not any really long sections with crazy amounts of boulders or smaller rocks that would give me a concern over the lack of a rock plate. So after reading a few other Sayonara reviews online in regards to trail performance and bouncing the idea off a few other people, I opted to run the race in the Sayonara. I thought that since I had not done any real off road testing with the shoe yet this would be the perfect opportunity.
One thing I had not mentioned about the course is that it is quite hilly. My GPS race data showed about 1600 feet of elevation gain through the duration of the 13.1 mile half marathon. Some of the hills were long and winding, but quite a few of them were very steep too; especially on the downhill segments.
I had run another trail half marathon earlier in the summer in my Cascadias, so that gave me a bit of reference data to compare to; even though the June race had less elevation gain and was an easier course than the North Country Run.  In that previous race, I had gotten some BAD hot spots on both feet (in the Cascadias), but I was very happy to find that I had zero hot spots, blisters, or any other sort of foot discomfort during this race in the Sayonaras. I think the roomier forefoot in the Sayonara is helpful for avoiding those issues.
The amount of cushioning in the Sayonara was good for this trail, and I think would be good for most trails. Possibly if you were running a really difficult trail with lots of sharp pointy rocks, you might have some issue, but I didn't have any problems at all with the lack of rock plate. The outsole grip on the trails was quite good, and perhaps the little "nubby" things on the forefoot are beneficial for dirt.  There were a number of downhills that I got going real fast on, and I didn't lose my footing once.
From a race/run feel standpoint, I like the fact that this shoe put my foot closer to the ground than my Cascadias. I feel more stable and also a little faster as opposed to the occasional "clunky" feel I get in the Cascadias. When taking the shoes off post race, I found that they did let a little bit of dirt in; but there wasn't very much.  This trail had quite a bit of loose dirt and some sand, so I was impressed to not find a pile of debris in the shoe since these are not really intended to be a trail shoe.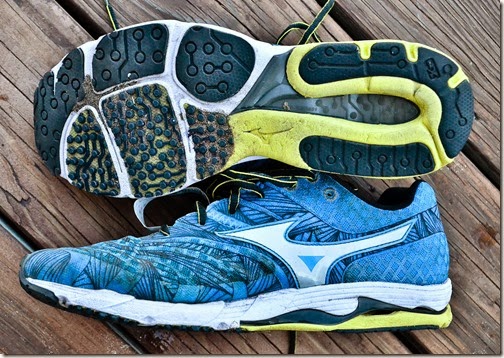 The clear film that wraps over the toe seems to work reasonably well as a protector against rocks or roots. I didn't hammer any rocks or roots really hard, but from pressing on it with your finger, it appears that it would offer good protection against most toe smashes except for perhaps the more extreme ones.
My opinion for the Sayonara as a trail shoe is that it works VERY well for mild trails without a lot of mud, water, & rocky terrain. So if you are a road runner who likes to frequent the trails; this could be a great "do it all" shoe for you.
Final thoughts
My final conclusion and recommendation is that this is a great shoe, that really works nicely as both a daily trainer and a "go fast" shoe; with the added bonus of working pretty dang good on all but the roughest trails.  As compared to the Precision 13 that it is replacing in Mizuno's product line, the Sayonara has less cushion. Some people might find this less appealing as a long run shoe due to the lesser amount of cushion.  Personally, I have worn it on a lot of longer runs, and think it works great as a long run shoe; but again this may come down to how much cush you like when you are out putting in serious miles and serious time pounding the pavement.
It is possible that this shoe could be used as a bit of a "transitional" shoe to fit between more traditional trainers like the Wave Rider and the more minimal offerings from Mizuno like the Wave Universe or the new line of "Wave Evo" zero drop shoes.
For me personally, I find the Mizuno Wave Sayonara to be the swiss army knife of running shoes. It works great for short, medium, and long distance and also works well for slow, moderate, and fast paced runs. Throw in the fact that it does well on trails and I think it is very feasible to say that this shoe could replace almost every running shoe in your closet.
The Mizuno Sayonara is available for purchase at Running Warehouse, Zappos, and Amazon.com.