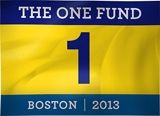 It just hasn't felt right to post normal content this week. Though I'm not from Boston, I grew up in Connecticut and now live in New Hampshire. My wife was born in South Weymouth, and my sister lived for several years in Somerville. I grew up going to games at Fenway with my family, I cried my eyes out on that fateful day in 1986 when Buckner let the ball roll between his legs, I cursed Aaron Boone in 2003, and I celebrated in 2004 when my dream of finally watching the Red Sox win a World Series came true. New England is my home, and Boston is the de facto capital of this region.
This week feels like it has lasted for months. It started with triumph as I watched the  winners of the Boston Marathon race down Boylston St. while tracking the times of friends who were running in the race. It quickly morphed into tragedy, and a mad scramble to make sure that those same friends (and many of my students) were all ok. It ended with justice. It's been quite a ride.
This afternoon at Fenway Park they played a tribute to the events of the week on the big screen. It's a moving and emotional video, and I thought I'd share it here in case you haven't seen it. Next week as things start to once again return to normal, we should always remember what happened, and keep those who were injured or who lost their lives in our thoughts and prayers.
Keep strong Boston!