On January 23, in the midst of another cold weather patch, I posted the following on Facebook.
"I've never minded winter before, but I have found myself today fantasizing about running all day in the warm woods. I have a lot of airplane miles, where should I go?"
A lot of great suggestions came in from my friends, and within 3 hours I had come up with a plan. My childhood friend Carl Rice invited me to come to where he lives in Joshua Tree, California to do some running. After a little bit of research I found a trail called the California Riding and Hiking Trail. It's a 37 mile, point to point trail that travels across the desert. Just what I needed, a long run in the warm sun.
Map of the trails in Joshua Tree
I texted my buddy Jeremy and asked him if he wanted to come with me and go climbing and hang out with our old friend Carl. He jumped at the chance. After a quick confirmation with his work we had our trip planned.  Three weeks later we were getting off the plane in Ontario, California and headed to see Carl.
Sabre and Seth of Cliffhanger Guides
It also turns out that Carl lives with Seth Zaharias and Sabre Purdy, who own and run Cliffhanger Guides. I booked two full days with them and was filled with nervous anticipation about climbing outdoors for the first time. Jer and I got the climbing bug when a new indoor climbing gym recently opened in our home town of Concord, NH. But climbing up 40 foot man-made routes is very different from climbing outdoors.
On the plane I endured much ribbing from Jer about how bad I smell.  Eating a pant based, whole foods diet has an unfortunate bi-product. Gas. I tried my best, even bought some Gas-X. Once, when he detected a foul odor, he looked at me and said, "was that you?" I said yes, and he said, "I knew it. Smells like vegetables and fear…"  Ok, so I was pretty nervous about the climbing part.
After a long day of traveling and settling in at the hotel, I decided to go for a little run to check out the terrain. We drove into Joshua Tree park for the first time and while Carl and Jer checked out the rocks, I ran a 7 mile out and back on the "Boy Scout" Trail.  I know this sounds stupid, but I was surprised at how soft the sand was. The trail was very different from what I'm used to as it was little more that just a path through the brush.  It would be very easy to get off-trail and turned around out there. I got a little bit more nervous about doing 37 miles of it all alone in an area that has no cell phone coverage.
First move to get on the wall
Photo – Carl Rice
We arrived on a Tuesday. Wednesday and Thursday we spent climbing. It was one of the most incredible things I've ever done. Seth was an excellent guide. I felt very safe with him leading us and was surprised at how much I didn't have a problem with the heights.  He even brought a vegan lunch for me! Our biggest climb was on Thursday. It was a multi-pitch (4 pitches) climb that Seth estimated at 450 feet high.  What a rush!!
Yes, I'm as high up as it looks.
Photo – Carl Rice
Thursday was an especially busy day. I got up early and headed out on the California Trail to check out the terrain. I left at 5:30 in the morning and ran into the sunrise with my headlight. I ended up running 12 miles and started to get a pretty good idea of what type of trail I was going to be on. After my run, then climbing all day and bowling at night, I decided to move my run to Saturday instead of Friday as planned.
Big Balls!
Photo – Carl Rice
So Friday we hung out at Seth's house and rode dirt bikes in the morning. Then we drove around the park and got prepped for the next day. We left water at the Ryan campground which is the 20 mile point. It's the first time there is road access to the trail from its start point. The plan was for Carl and Jer to meet me there just as a precaution in case something went wrong and I needed to bail.
I almost hit Carl right after this – Photo – Carl Rice
As the sun went down we set up camp at the Black Rock Canyon campsite. After Carl took a bunch of pictures we smoked some good cigars and then went to bed. I ended up hardly sleeping at all as it was colder than I anticipated, and our camping neighbors were the loud partying type. The coyotes barking and howling were incredibly loud too. I drifted off to sleep realizing that I had no idea what to do if I encountered a pack of them on my run.
The Campground – Photo – Carl Rice
I gave up at sunrise and headed out into a 42 degree morning.  I put on my new Brooks Pure Grit 2's and an Ultraspire hydration pack, which I had fully set up the night before, and headed out towards the trail. In my pack I had my camera, a Garmin GPS with the route downloaded, 2 bags of Hammer Sustained Energy, 1 packet of Hammer Perpetuem, 4 Hammer gels, 2 packets of Honey Stinger chews, 1 tube of Perpetuem solids and 70oz of water in the bladder.  I was also carrying a handheld 28oz bottle, which I used to drink the Perpetuem/Sustained Energy.
As I walked down the road to the trail entrance I heard another crazy frenzied coyote howl fest and got a little bit nervous. At 6:17am I started my run. My hands were freezing. 37.3 miles to go!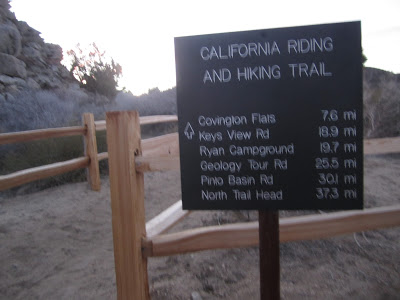 Sign at the start.  37.3 miles to go.
In the weeks leading up to the trip I had looked briefly at the elevation profile and didn't see anything worth noting. I didn't realize that the first 6 miles were uphill…in soft sand…and windy….and cold….but I really didn't care. I was thinking deeply about how just a few short weeks ago I had a fleeting thought about running in nicer weather and now here I was actually about to do it. It felt liberating. And my hands started to warm up within a few miles which was great for my disposition.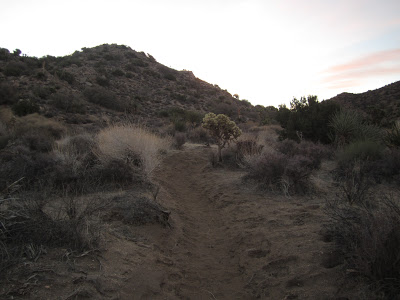 Uphill and Sandy.  The first 6 miles looked like this as I climbed up.
Within 2 miles I was lost already. Luckily the trail I turned on to looped back to the CHRT. I chuckled to myself wondering how long my actual run was going to be and hoping that I was going to be able to stay on trail.  One of the cool things about the trail is that there are mile markers every mile.  If you really get off track it wouldn't take you to long to realize it. I headed up the mountain, towards the rising sun and tried to keep my heart rate in check.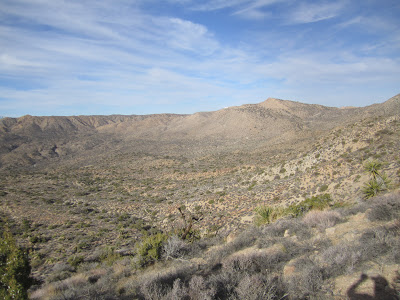 Exposed and warm.  No way out, no phone coverage, all alone in the desert
Every hour the sun got hotter and hotter. There is something about the exposure in the desert that makes the sun seem hotter than the temperature would indicate.  Throughout the entire run, there is almost no place to hide from it. Running this route in the summer would be flirting with death. As I got deeper and deeper into the desert I start to feel very small, like I was trapped in a Dr. Suess book. Sand and small desert trees.  And a very faint trail through the middle of it all.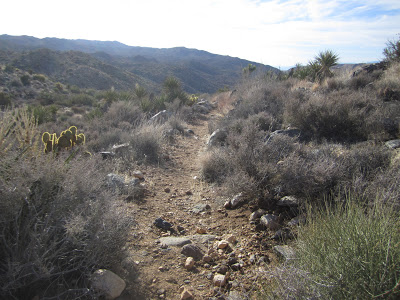 Rugged and beautiful!
I had told Carl and Jer that I would be at Ryan Campground, where we dropped water, around 2:45 – 3 hours after I started. I thought that it was 18 miles, but it turned out that it was a little over 20. I rolled into the campground a little bit over 3 hours after I started, around 9:30am, to find that they were not there. I filled up my bladder and headed back out. I found out later that Jer had no idea what time I left and he hadn't really paid attention to what I told him about when I would be there. Oh well, luckily I was in good shape and ready to tackle the next 17 miles.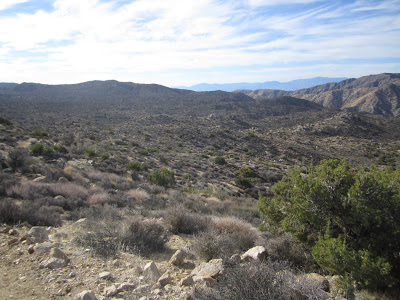 Getting warmer…
It was really getting hot and I started to get tired around mile 25. Only a 1/2 marathon to go I thought and I started to play a game of collecting mile marker signs. Every time I got to one I called out "YES!!" and headed off in hot pursuit of another one. I concentrated hard on pretending that I was in the middle of a 100 mile race and was only 1/4 of the way through. "How are you going to handle it when you feel like this and you still have 75 miles to go?  Are you going to wimp out, or just concentrate on being in the moment?" These runs are the cornerstone for getting my head ready to take on such a daunting task as running a 100 mile race.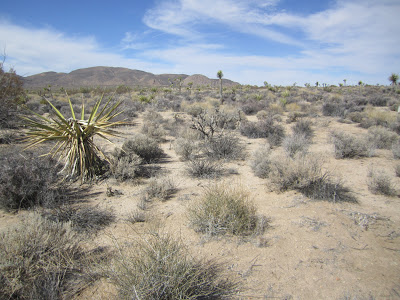 The saving grace of the trail is that it is mostly downhill for the last 12 or 13 miles.  It was very easy to keep a nice pace as I concentrated on eating, drinking and collecting mile markers. As I got closer I realized that I was making pretty good time. I had planned on really taking it easy and told they guys that I would most likely be out there for 7 to 8 hours. I wanted to take lots of pictures (which I did) and just enjoy a day of running. But as I looked at my watch I realized that I was going to be well under 7 hours.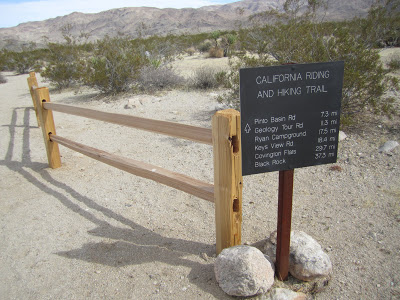 Done!!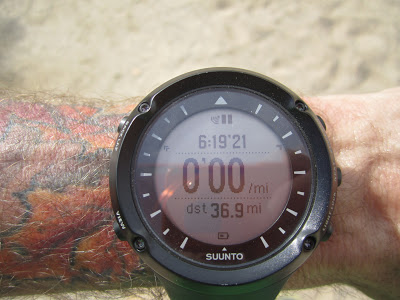 Official Time on my Suunto Ambit.
I stepped into the parking lot at the end of the trail 6 hours and 19 minutes after I started. Certainly not a race worthy time, but very solid for a fun run. Carl and Jer were nowhere in sight so I asked some folks if I could borrow their phone. I left Jer a message and hung out on a rock as my legs started to stiffen up. I was there for about 20 minutes before they showed up. It was only 1 in the afternoon and we went into town to eat at our favorite little vegan restaurant, the Natural Sisters Café.
GPS Track from the run
Last year I DNF'd both of my 100 mile race attempts. I believe that the reason why this happened is because I didn't have my head ready. Although I put in a lot of miles, I didn't do enough long runs and I knew it. I found this run to be relatively easy. That gives me confidence that my training is going better this year,  which in turn creates a more positive feeling of confidence going into my race season. And in 100 mile races, that's as important as being physically ready. In 12 weeks I'll find out as I toe the line at the Massanutten Mountain 100.
Photo Carl Rice (who takes AMAZING pictures)
---
| | |
| --- | --- |
| | Nate Sanel is an ultrarunner and author of the Dirty Runner column on Runblogger. You can find more of Nate's writing on his personal blog, Biker Nate, or follow him on Twitter. |
---