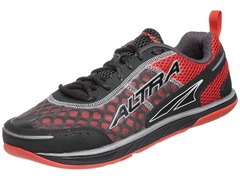 A few weeks ago my wife and I were in our local food co-op and she turned to me and pointed at a woman in front of us in line. In a low voice she whispered "What are those shoes she's wearing?" Now, you need to know that in our marriage I'm the shoe junkie, and my collection of footwear dwarfs hers. As such, a question like this is unusual from her, and I was surprised.
I was immediately able to identify the shoes as Altra Intuition 1.5's (the women's equivalent to the Instinct 1.5), and her response was something along the lines of "I really like those, can you get me a pair?" No need to ask me twice to buy a pair of shoes :) After receiving the shoes and finishing off her first run, she walked in the door and said "I think I'm in love." Given that most other shoes that I have bought her have injured her in some way (not good for my credibility in her eyes…), this is high praise!
Why start a review with this story? Well, mainly because it demonstrates the primary difference between the original Altra Instinct/Intuition and their version 1.5 sequels. The original Intuition would never have caught my wife's eye, and I felt similarly about the original Instinct. Functionally, the Instinct was a very solid shoe, but it was lacking in the aesthetic department. I actually spoke with Brian Beckstead (one of the founders of Altra) about this at Ragnar Florida Keys last year. He basically told me that the original Instinct was designed by him and his co-founders, but once the company got some financial backing they were able to hire professional designers to help make a better looking shoe. Mission accomplished.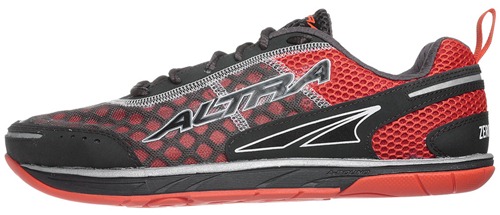 Given that the Instinct 1.5 received mostly just a cosmetic update to the upper, I'm not going to go in depth regarding fit and function since I covered them in my review of the original Altra Instinct and not much has changed in these areas. In a nutshell, the Instinct 1.5 is exceptionally roomy in the forefoot (think Birkenstock or Croc shape – see photos below), zero drop (16.5 mm stack height without an insole, 3mm and 5mm insoles come with the shoes), and very firm underfoot. This is definitely not a cushy shoe, but I have run double-digit single-run mileage in the original Instincts without issue. It is also a fairly stiff shoe and runs right around 10oz in size 10, so it's not a featherweight. However, a good chunk of the weight comes from the full-coverage rubber outsole, and thus I expect that they will be extremely durable.
As mentioned, the big change here is to the upper. Compared to the original, the new Instinct simply looks great, and the upper is both breathable and very well constructed. Comfort is fantastic, and I get no hotspots while running in the shoe. If you want a super roomy, firm, zero drop shoe that should last a good long time this shoe should be at the top of your list.
On a side note, it's been really interesting to watch Altra develop as a company, and to see how much they have improved their footwear offerings in their second iterations. Of all the new shoe companies that have popped up over the past few years following the minimalist wave, my bet is that Altra has the best chance of growing into a major player in the running shoe market. The company knows runners, and they have cultivated a group of almost fanatical enthusiasts (the Altra Maniacs). Their last shape is indeed unique in the market, and for the wide forefooted (is that a word???) they are one of the best footwear options of any type out there. What's more, they have a great lineup of shoes set to be released in early 2013.
I'll finish this quasi-review off with one more story. I ran 4 miles in the Instinct 1.5's earlier today while pushing my little guy in the jogging stroller. We stopped to pick up my older kids at their school at the end of the run, and while we were getting ready to head home a guy walked by and said to me "How do you like the new ones?" At first I had no idea what he was talking about. "New what?" I replied. He lifted up his pant leg and then pointed at my shoes.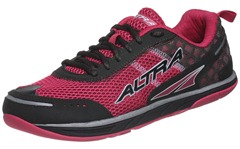 He was wearing the original black Instincts. "The new Altras" he said, "I love running in these." Seems to be a common refrain among those who have tried them.
The Altra Instinct 1.5 is available for purchase at Running Warehouse. RW also carries the women's version, called the Intuition 1.5 (picture at left).
For more information, visit the Altra Zero Drop website.