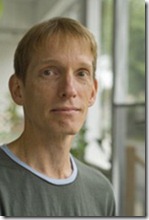 Scott Douglas, senior editor and former editor-in-chief at Running Times Magazine, is writing the Runner's World Guide to Minimalist and Barefoot Running, which will come out next year. He'd like to talk in depth with some people with compelling minimalist-related stories. I offered to post his request here on Runblogger as I'm sure many of you have personal stories worth sharing. Here is the type of thing Scott is looking for:
"Archetypes would include: full-blown switch to minimalism and success in staying injury-free after years of struggle in conventional shoes; going too deeply too soon into minimalism and having setbacks; happy mediums (have integrated footwear and other aspects into long-standing routine with success while maintaining many previous practices)."
Scott's goal in the book is to provide "practical, grounded advice for the great majority of runners who live and run between extremes" – in other words, he is trying to take a balanced, middle-ground approach and is not looking to present extreme viewpoints on either side of the issue.
If you are willing to help Scott out, and perhaps have your story included in his book, send a few sentences summarizing your experiences to Scott at: