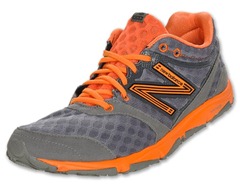 A few weeks ago I got an email from a reader asking if I had seen or tried the New Balance 730 (thanks for the heads up Robert!). He indicated that it was for sale at Finish Line, and that it felt very low drop and had a super wide toebox. Needless to say I was intrigued, and in looking at the photos on the Finish Line website the shoe appeared to be built on the Minimus last. As far as I can tell, There has been zero fanfare associated with the release of this shoe, and it would appear that it's not a shoe targeted to the specialty running market. Instead, you can find it for sale on-line at places like Finish Line, Sports Authority, and Backcountry.com.
Being the running shoe sucker that I am, I couldn't resist ordering a pair (~$70 with a $10 off coupon ain't bad for a pair of shoes these days…), and they arrived today. I have not run in them, but I wanted to put up a quick preview post as this looks to be a pretty promising option in the wide-forefoot, transitional shoe category.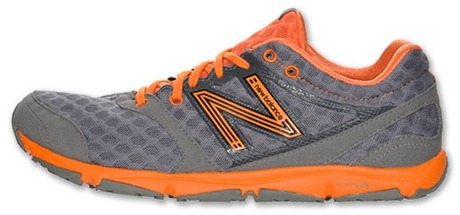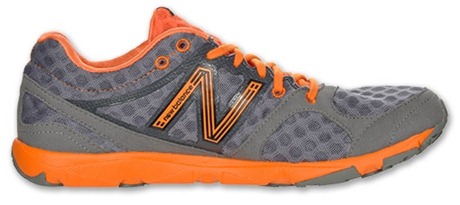 First, I can confirm that this shoe is indeed on the Minimus last – fit is very similar to both the New Balance MT110 and the Minimus Road (maybe even a tad wider in the forefoot than the latter). (Update: For those needing an even roomier fit in what is already a roomy shoe, the New Balance 730 is also now available in 2E width at Shoes.com – you can get 10% of shoe purchases at Shoes.com by using this link) It even has the <=> logo printed inside. It weighs in at 7.2 oz in my size 10, which is a full ounce less than the Minimus Road, and it seems like it may be a bit more flexible than that shoe. There is no plastic heel counter, which I love, and the material lining the ankle is very soft – feels like the same stuff lining the interior of the Minimus Road and MT110. There is no insole, and the shoe is clearly intended to be wearable without socks (I intend to put it to the test soon). There is also no noticeable arch support built into the shoe. The outer layer of material on the upper is similar to that found on the Minimus Trail MT10.
Perhaps the biggest surprise came when I put the shoe on my feet. I had heard from fellow blogger Zak Branigan that the shoe is listed as 4mm drop, but I'll be darned if it doesn't feel pretty flat. I pulled out the calipers, and after several repeat measurements I pretty consistently get 16mm heel, 13mm forefoot – 3mm drop, but it sure feels like less. The sole is also pretty firm – no mushiness here, which could be good or bad depending on your preference.
I'll leave it at that for now, and post again after a few runs. This looks to be a pretty promising shoe, and ticks off a number of key minimalist check boxes (low drop, wide forefoot, no arch, no heel counter…). I'll also add that my friends Thomas over at Believe in the Run and Zak at Average Guy Hits the Road have purchased this shoe, and will be sharing their thoughts in the near future as well.
Stay tuned, and if you're as impatient as I am when a shoe like this hits the market, you can check out the New Balance 730 for yourself at Finish Line. They are also available for sale at Amazon.com.
Update: The New Balance 730 is also now available at Shoes.com (including 2E width), and using this link you can get 10% of shoe purchases at that site as well
Below is a coupon code for $10 off at Finish Line:
Finally, here are additional color options available for men (top two) and women (bottom two):