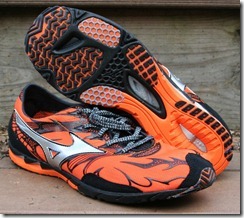 I just returned from a solid 7 mile run in the Mizuno Wave Universe 4 racing flats, and it reminded me that I have yet to write up my thoughts on these shoes here on the blog. Much like the review of the New Balance MO10 that I posted yesterday, this review will be fairly short as the MWU4 is only a minor update to the previous version, which I reviewed previously here. However, the updates that were made address two of the major complaints that I had about the Universe 3, which was in many ways an incredibly solid shoe. I would go so far as to say that the Wave Universe 4 is just a small tweak from being a virtually perfect racing flat.
If you haven't run in any iteration of the Mizuno Wave Universe before, you're missing out. The shoe is ridiculously light (under 4oz), plenty flexible, and has a very roomy forefoot for a racing flat (the Adidas Hagio is the only flat that comes close in forefoot comfort). It is listed as having a 4mm differential (18mm heel, 14mm forefoot), which feels about right to me (the sole of the MWU4 is identical to that of the MWU3 as far as I can tell). The ride under foot is fairly firm, but there is enough cushion to allow for comfort on the roads – I do know folks who run marathons in this shoe.
I had a very favorable opinion of the Mizuno Wave Universe 3, but the shoe was quite frankly ugly (almost looked pink in color), and the material lining the inside of the shoe was abrasive. The Universe 4 resolves both of these issues – the bright orange upper with flame patterns looks great (it is now being replaced with an identically patterned red version), and the interior is now lined by a soft mesh that is more comfortable against the skin if sockless.
Unfortunately, there is one issue that still gives me trouble when running sockless in these shoes – the smooth, synthetic-leather-like material lining the ankle collar rubs my skin and causes blisters. If I could change one thing about this shoe it would be to add a softer, fabric lining around the ankle collar, perhaps with just a small amount of cushion underneath. I can't comment on durability (I never get enough miles on a single pair of shoes to wear them out given the number of reviews I do), but know people who get a lot of miles on a pair – as always individual results will vary depending on the specifics of you stride.
I think what I like best about this shoe is that it's so light that you barely feel like you have anything on your foot, but it provides just enough cushion to save my legs if I feel like running fast on the roads. I finished my 7 miler today with two miles at around 6:30 pace, which is faster than I've run in a bit, and my legs felt great. This is a shoe that does not get in the way, and that's perhaps the highest compliment I can give a running shoe. Finally, one complaint about the Wave Universe is it's price – MSRP is around $125. I'd guess the steep price tag is probably because it takes some effort to make a shoe this light that doesn't just fall apart after a few uses. That being said, these shoes were a personal purchase and not media review samples, which tells you how much I like them. Because a color update has arrived, the orange MWU4 can be had for a considerable discount in Running Warehouse closeout shop. If you're looking for a new flat, this one is definitely worth a try!