Looks like Adidas wants a piece of the Fivefingered shoe pie. Nick Pang over at Minimalistrunningshoes.org and Bill Katovsky at Zero Drop just sent me a photo of their newest minimalist shoe, the Adidas Adipure Trainer. Looks like the fact that Vibram, make of the Vibram Fivefingers, is suing Fila (who released a four-fingered shoe called the Skeletoes) for patent infringement isn't scaring Adidas away from attempting to capitalize on the toe-shoe craze. Will be interesting to see how this plays out…
Men's (top) and Women's (bottom) Adidas Adipure Trainer
Below are some photos from Gizmodo: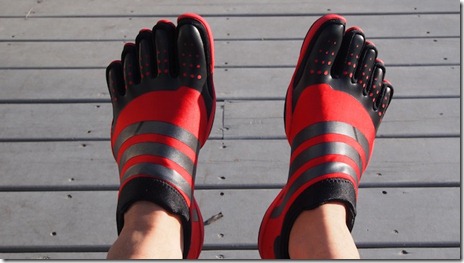 Below is the text of a short article about the Adipure Trainer as posted on Yahoo! News:
"Adidas is going barefoot.

The world's second-largest athletic company unveiled its first "barefoot" training shoe Tuesday. The Adipure, which will be in stores in November for $90, is designed to mimic exercising barefoot, but with the protection, traction and durability of wearing shoes.

Adidas, which is trying to expand in the U.S. market where rival Nike dominates, is the latest athletic company to capitalize on the small but burgeoning market for so-called minimalist shoes. These shoes are a fraction of the $22 billion U.S. athletic shoe industry, but sales of them have more than doubled in the past year. Those who wear the shoes say they force them to rely on the body's natural movements and avoid injury. Critics say the shoes cause muscle injuries that running shoes do not."
You can now purchase the Adidas Adipure Trainer for yourself at Finish Line. They are also available for sale at Amazon.com.
Below is a coupon code for $10 off at Finish Line: