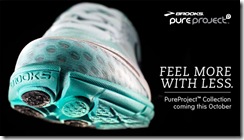 Update 10/24/2011: I share my thoughts on the Brooks Pure Connect here.
Brooks released details today about it's upcoming PureProject line of minimalist running shoes (thanks to Zak as well as Ransacker for the details!). I wrote about the Brooks PureProject a few weeks back, so I'll keep my comments here brief.
I don't know yet what the specs are on these shoes as to heel lift, but all look to be lower than the traditional 12 mm rise – going to work on trying to get some firm numbers. Update: Thanks to Jon from Brooks for providing drop numbers in the comments – all of the Pure shoes are 4mm heel-forefoot offset. All of the models below look to be decently cushioned, so I wouldn't classify any as ultraminimal or barefoot-style. However, given my liking of the Saucony Kinvara and other well cushioned shoes, this won't be a huge issue for me – I know where to find ultraminimal shoes if I need them (Merrell, Vibram, Terra Plana etc.).
From a styling standpoint, I give Brooks a lot of credit – all are good looking shoes and meet my preference for shoes with a bit of an aggressive look. I got to check out a pair of the Pure Grit at the HAT Run 50K a few weeks back (a fellow runner was wear testing them and let me have a look), and they do feel very light, and the split toe design of the sole (see photo above) is interesting to say the least. I'll withhold further judgment until I can get a pair on my feet. If you have any further details, feel free to share in the comments.
Pricing is $90-$120. Not sure how I feel about this given Brooks' claim in their first PureProject post that "Runners shouldn't have to pay more for less technology."
Update: Just came across this choice quote by Brooks CEO Jim Weber from an article in Running Insight:
"If you want to live your life with a 'less is more' philosophy, I can understand that," Weber told Running Insight, "but when it comes to performance product the idea that 'less is more' is absolute crap."
Pretty strong words, and not sure I'd agree even remotely. I also found this line quote by Weber to be interesting (from the same Running Insight Article):
"We see this very much as a specialty run product," Weber said, "because it gives stores a chance to maintain their fitting process and offer their customers two different types of running experiences."
I question the innovation involved with making a product so that it allows retailers to "maintain their fitting process" when evidence calls into question the entire nature of the pronation-control based fitting process that we now use. I don't have a problem with varying stability levels or these Brooks shoes – I actually am quite excited to try the Pure Connect – it's the fitting process I have a problem with, since I don't feel that the evidence base for its use is very strong. It's long past time where we re-consider that paradigm.
For more info, check out the PureProject product page on the Brooks website, or this PureProject launch article on Ransacker.co.uk.
All images and text below are taken from the Brooks PureProject Tech Sheet:
---
Brooks Pure Connect
Our lightest and most flexible shoe in the line, the PureConnect puts as little as necessary between the runner and road. 7.2 oz men, 6.5 oz women – 14 mm heel:10 mm forefoot
Update 10/24/2011: I share my thoughts on the Brooks Pure Connect here.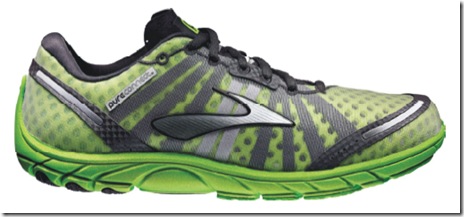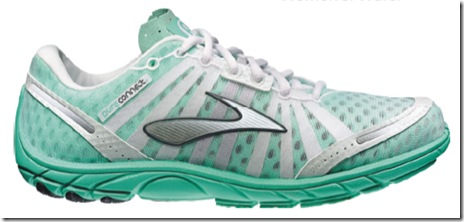 ---
Brooks Pure Flow
For runners who want to connect with the run without losing the comfort
of dynamic cushioning. 8.7 oz men, 7.5 oz women – 18 mm heel :14 mm forefoot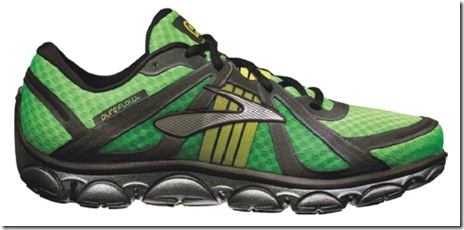 ---
Brooks Pure Cadence
Runners who need more supportive features can still experience the feel
of a more natural stride. 9.5 oz men, 8.3 oz women – 18 mm heel:14 mm forefoot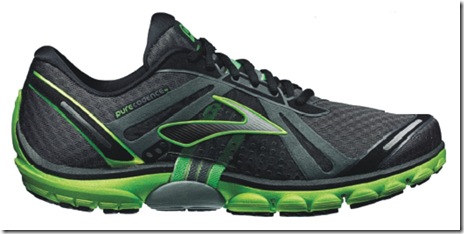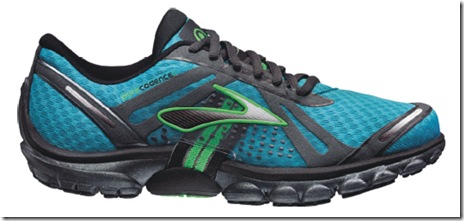 ---
Brooks Pure Grit
Trail runners will love the hug-your-foot upper, slim midsole, and pliable
yet protective outsole. 8.9 oz men, 7.6 oz women – 15 mm heel:11mm forefoot