One of the pieces of equipment that I carried with me during the Smuttynose Rockfest Marathon last week was a cool little energy flask made by a company called Hydrapak. Hydrapak makes some innovative stuff, focusing mainly on fueling, hydration systems, and packs, and I previously reviewed their GelBot water/gel bottle combo here on Runblogger.
Anyway, a few months ago a representative from Hydrapak got in touch with me and offered to send me a review sample of one of their new running packs, the super-minimal E-Lite Vest. The vest pack arrived a few weeks ago, and along with it he included both 5 oz and 8 oz samples of their Hydrapak Softflask (disclosure – the pack and flask were provided free-of-charge). As someone who generally carries watered down energy gels in a flask during marathons, the Softflask looked like an ideal alternative to carrying a small plastic bottle during a race (I have in the past used travel shampoo bottles and a Nathan Gel flask).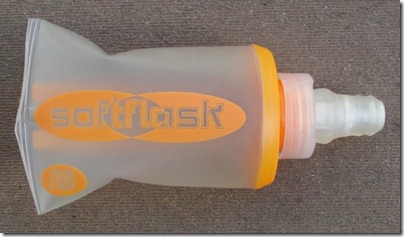 Basically, the Hydrapak Softflask is like a soft, rubbery tooth-paste tube that can be easily opened and filled with gel or any other type of fueling concoction that you like. The lid on the flasks that I have is topped by a rubberized bite-valve (see photo below), which works great and avoids the sticky mess that inevitably occurs when I try to use a pull spout flask with goopy, watered down energy gel. Perhaps the best part about hand carrying the soft flask during the marathon last weekend is that it gets progressively smaller as it empties, form fits to your hand, and weighs practically nothing and packs into a tiny little ball when done (I hate carrying empty plastic flasks in my little waist belt in a race, and these work much better).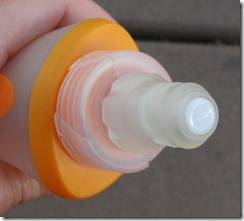 Ultimately, the question for a product like this is will I use it again? The answer: absolutely! I plan to have the Hydrapak Softflask in hand once again while running the Manchester City Marathon in November.
For more information, check out the Hydrapak webpage here: http://www.hydrapak.com/products/bottles/soft-flask