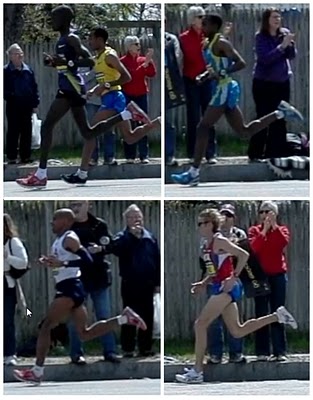 I've written quite a bit about running form lately, including posts on variability among elite runners, overstriding and footstrike location, and running gaits in middle-of-the-pack runners. Based upon this, Mark Ulrich of the Run In America blog asked me if I would be interested in participating in a panel discussion on Running Form and Shoes on the Runner's Round Table podcast. I happily accepted, and we recorded the episode earlier tonight.
Mark and I were joined by show host Joe Garland of the Run Westchester blog, Steve Magness of the Science of Running blog, and Jason Kehl of the Geeks in Running Shoes podcast.
Our discussion was wide ranging, and covered topics like our personal experiences with changing running form, how to identify and correct overstriding, the importance of the hips, the relationship between footwear and form, barefoot and minimalist running, and who should and shouldn't consider form change. I encourage you to give it a listen!
You can view the show notes for this episode of the Runner's Round Table or listen on-line here: http://runnersroundtablepodcast.blogspot.com/2010/09/rrt98-running-form-thurs-916-at-8pm-edt.html
You can download the .mp3 file for the show by right-clicking and saving the file here: http://recordings.talkshoe.com/TC-34812/TS-395910.mp3
Or, you can download the episode from iTunes here: http://itunes.apple.com/us/podcast/rrt98-running-form-some-stuff/id287953154?i=87470282
I'd love to hear what you think!