Amid the rush of new so-called minimalist shoes hitting the market (or soon to arrive in stores), it's easy to overlook the fact that just about every shoe manufacturer already makes shoes that fit pretty squarely in this category (depending on how you define minimalist – some prefer to call these "reduced" or "transitional" shoes). In fact, current offerings in the road and spikeless cross-country flat lineups may be far more "minimal" than many of the so-called "minimalist" shoes currently being produced (with a few exceptions – Vibram Fivefingers, Terra Plana Evo, and a few others – see my Minimalist Shoe Guide for more). What's more, many of these shoes can be purchased for half the price (or less) of some of the more heavily marketed minimalist offerings, a few of which I will be reviewing soon – stay tuned!

A few months ago I wrote a very positive review of the Brooks Mach 11 XC racing flat. The Mach 11 has a low heel, only a 4mm heel-to-toe drop, and is very lightweight (7.1 oz in men's size 9). The only drawback I had identified is that the Mach 11 fits fairly narrow in the midfoot and heel. At the time of writing that review, I was aware that Brooks was set to release the updated Mach 12, and I contacted them to see if they would send me a pair to review and compare to the previous version (they graciously agreed – in the interest of full disclosure, let me state openly that I am receiving no other form of compensation for this review). I have now put in about 35 miles in the Mach 12, and am ready to render my review.
Brooks Mach 12 Spikeless Cross-Country Racing Flat
Appearance: When I first saw promo pictures of the Brooks Mach 12 on the Running Warehouse blog, I was immediately impressed. Simply stated, this is one of the best looking shoes that I own. The black/yellow color scheme looks great, and the shoe just screams "fast!" I'm a big believer in the power of psychology to raise performance, and when I run in a shoe that makes me feel fast, I do believe that it can provide a small boost. Brooks really paid attention to design detail with this one, and it's a definite winner from an aesthetic standpoint.
Brooks Mach 12 Spikeless Cross-Country Racing Flat – Lateral View
Fit: As I mentioned above, my only real complaint with the Mach 11 was the narrowness of fit in the midfoot and heel. The Mach 12 is a complete redesign in terms of both appearance and construction. While it is still a narrow shoe and might not be well suited for a wide foot, the Mach 12 fits my foot better and is noticeably wider in the midfoot – it locks onto my foot like a glove. Like the Mach 11, the Mach 12 rides very close to the ground, and I also measure it as a 4mm drop shoe (same as the Nike Free 3.0, Saucony Kinvara, and the soon to arrive New Balance Minimus lineup – see this post for more on heel-toe drop). Given the low heel, this would be a good choice for someone trying to transition to a more midfoot (entire sole) or forefoot gait. Brooks also managed to shave a full ounce of the weight of the Mach 12 (6.0 oz in size 9), making it one of the lightest shoes that I own – this is a huge plus for me.
My only complaint about the Mach 12 is the exaggerated toe spring (the upturning of the toe). I generally don't mind a bit of toe spring, but in the Mach 12 it is noticeable when I put them on, but less so when I'm actually running.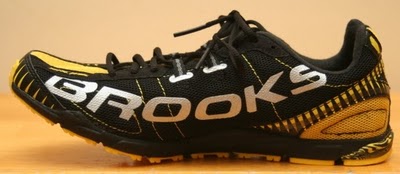 Brooks Mach 12 Spikeless Cross-Country Racing Flat – Medial View
Performance: I have nothing but good things to say when it comes to the performance of the Mach 12. It's a great shoe to run in, it handles mixed terrain well, and it doesn't get in the way too much when I try to work on moving my landing more toward my mid/forefoot (the presence of a slight heel raise does make it a bit harder than in my Vibram Fivefingers Bikilas though). For example, I took them to the track last week and did 20×200 intervals at about 5:40 min/mile pace and was able to shorten my stride and land on the forefoot almost the entire time – it's a near perfect shoe for speedwork. Yesterday afternoon I did my 20 mile long run in them over very hilly terrain (wasn't planned, they were the only shoes I had with me when I decided to go) – while I wouldn't recommend them as a marathon shoe unless you are very well adapted to a low-drop shoe with little cushion, I made it through the 20 miles without much trouble, and my feet feel fine today. I could easily envision myself using them for race distances up to the half-marathon.
Lately, the Mach 12 has also been my racing shoe of choice. I finished second overall in a small, local 5K in them (my best ever finishing place), and I set a 4-mile PR in them on a very hilly course in early July. Their light weight and low ride makes them an ideal shoe for running fast!
Conclusion: The Brooks Mach 12 is a super-light, great looking shoe that is well-designed for speed – with my recent race performances as an indication, it has certainly proved itself to me. In a market where so-called "minimalist" shoes are starting to pop up all over (many costing upwards of $100), being able to purchase a low drop shoe that is built close to the ground for less than $50 (see Running Warehouse link below) makes the Mach 12 a great choice for anyone wishing to experiment with less shoe without breaking the bank. Who knows, as some of my friends have discovered with the Mach 11, you might just decide that you don't need anything more!