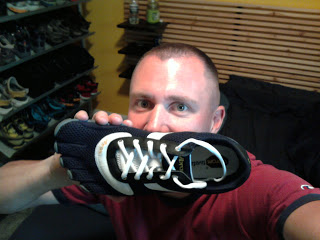 I'd like to point you to a post on minimalist running that I just edited and posted to the dailymile Community Blog.
Like many minimalisters, Sean Fillner came to minimalist running because he found that it was the only way that he could run without pain. In the post, he tells his story of becoming a minimalist runner, and discusses his thoughts on several models of the Vibram Fivefingers line, including the released-ini-Europe-only Vibram Fivefingers Speed (his personal favorite!). He also provides info on how to get ahold of a pair of the Speeds should you like to give them a try. I feel a certain connection with Sean, because he, like I, apparently has a serious shoe problem (check out that shoe collection in the background picture above!).
Check out Sean's post on becoming a minimalist runner on the dailymile Community Blog.