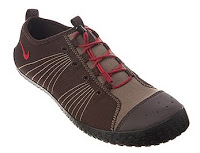 Today's run wasn't supposed to feel as easy as it did. Although in the grander scheme of my running history it was nothing special in terms of speed or distance (4 miles at a 7:31 pace), I ran it in a pair of aqua socks. You know that running in aqua socks is absurd, right??? They don't have much in the way of cushioning or a heel, and that's surely a recipe for disaster for my poor joints. At the very least, I should have come home limping and complaining of sore heels. But you know what? The run went just fine, I felt no pain, and I returned home feeling as invigorated as I have after almost any other run that I have done.
I've learned a lot in the last 13 months since I took my first tentative steps in a pair of Nike Free 3.0's, and one of the things I've realized is that the modern running shoe with it's thick, cushioned heel and pronation control technology is not necessary for me to be able to run either comfortably or fast. I ran today's run in a pair of $40 Nike Sneakerboat II water shoes with nothing more than a thin slab of rubber under my foot, and I did it almost effortlessly at near my BQ pace. It's taken me a long time to get to where I am (my legs and feet were well acclimated to the "modern shoe"), and I still value a cushioned sole from time to time (my strategy has been to mix things up with footwear, and this will likely be my strategy going forward as well), but the realization that my body is quite capable of adapting to less shoe has been very gratifying, and quite frankly a bit shocking. As an anatomist, I should have known that this was possible, but when something is as pervasive as the modern running shoe is, it's a bit scary to consider bucking the trend and doing something radically different. Needless to say, I'm glad that I did.
I frequently say, and see it said by others, that when it comes to finding the perfect running shoe, we are all an experiment of one. I'm not going to stand on a soapbox and say that everyone should shed their high-tech shoes, because for some this might just be a bad idea. However, if you're a bit adventurous and are willing to take a leap of faith, it's an exhilarating experiment to try. I don't know that it has made me faster or less injury prone (perhaps it hasn't accomplished either), but I take comfort in the fact that I can from time to time (more often than not these days) allow my body to function how it was meant to function (i.e., without a massive heel lift).
To read my entire series of posts on minimalist running, click here.