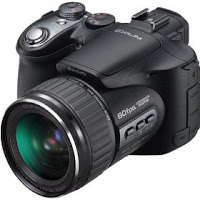 I have a fairly long history of working with high-speed (i.e., slow-motion) video. As a graduate student, I did my dissertation research in a lab that specialized in locomotor and feeding biomechanics of animals, and to do these types of studies, the ability to film at very high frame rates (200 frames/second and up) was a must. However, the NAC cameras we used in those days priced easily in the 5-digit range (possibly even 6-digits), making the technology far too expensive for the average person wanting to play around with slow-motion video. Technology has come a long way in recent years, and cameras that can record at such high-frame rates have finally dropped into a price range where they are affordable to people not working in grant-funded academic research labs.

Let me start by describing what exactly I mean when I refer to high-speed video. Most home digital video cameras shoot at a frame rate of ~30 frames/second (fps), which means that they essentially are taking 30 still photographs per second, then playing them back in in sequence such that they appear to form a seamless video. It turns out that 30 fps is sufficient enough to prevent us from being able to detect the gaps between images with the naked eye when they are played back. However, if you were to slow down video taken with a regular camera (e.g., in a program like Virtualdub), you would notice a distinct "jumpiness" due to the gaps between images – the video would be far from smooth, and this is why you need a more capable camera when you wish to film fast action and play it back in slow motion.
My series of slow-motion running videos have sparked a lot of commentary on this blog, as well as a decent number of direct e-mails to me from readers (for an example, see this post looking at the effects of shoe type on footstrike). Most of these clips have been shot with a Casio Exilim EX-F1 digital camera. The EX-F1 is an amazing piece of electronics, and in terms of high-speed video capability, it does for about $1000 what historically could be done only by far more expensive cameras. The Casio Exilim EX-F1 does a lot more than just high-speed video (e.g., HD video at 1080i, 60 high-res stills in one second in high-speed burst mode, plus a lot more – you can read the full overview on Casio's product page for the EX-F1), but that's it's primary use for me, it does it very well, and that's what I'll focus on here.
The Casio Exilim EX-F1 can shoot high-speed video at 300, 600, or 1200 frames/second. As you increase filming speed, however, you get a loss of resolution as follow: 512 x 384 (300 fps), 432 x 192 (600 fps), 336 x 96 (1200 fps). That being said, the 512 x 384 resolution is more than suitable for my purposes, both personal and academic. The EX-F1 also has a variable 30-300 fps mode that allows you to toggle the movie recording speed between 30 fps and 300 fps on the fly. This would allow you to switch between real-time and slow-motion as the need arises (think capturing a baseball player sliding into a base). Below is a sample slow-motion video of Ryan Hall running in the 2010 Boston Marathon recorded by two of my students at 300 fps on the EX-F1:
Ryan Hall – Boston Marathon 2010 from Runblogger on Vimeo.
Video clip of Ryan Hall running near mile 17 in the 2010 Boston Marathon. Filmed at 300 fps with a Casio Exilim EX-F1 digital camera. Video courtesy of https://runblogger.com.
You need a lot of light to get image clarity/quality with high-speed video cameras, and the EX-F1 is no exception. While shooting outside usually gives good results, I have to use halogen spotlights on subjects in my lab to get crisp images with this camera. In fact, the 1200 fps setting requires extremely well-lit conditions (and I mean very, very bright) to get a usable image. Below is an an indoor video of me running on a treadmill in my lab shot at 300 fps with the EX-F1 (be aware that there is some loss of quality when uploading to Vimeo):
Brooks Launch from Runblogger on Vimeo.
Slow motion video of treadmill running in Brooks Launch – mild heel strike here. Video shot at 300 frames-per-second with a Casio Exilim EX-F1 camera. Courtesy of https://runblogger.com/.
So, my experience so far with the Casio Exilim EX-F1 has been extremely positive, and for a small-college researcher like myself, it's an affordable option that allows me to still do many of the things I did in graduate school at a large research institution. I'd say that If you have money to burn, or are in an academic or competitive athletic environment (e.g., biomechanics research), the Casio Exilim EX-F1 is a great choice for affordable high-speed video. As time allows, I'll try to add some additional videos at 600 and 1200 fps for you to view, as well as one in HD.