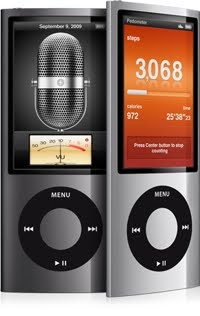 Last Christmas Santa Claus fulfilled my major gift request by bringing me a new 5th generation Ipod Nano to replace my old 2nd generation model. My Nano 2G had served me well for over two years, but it suffered a touchpad malfunction from an excess of sweat damage due to 1500+ miles of use on my runs. My attempt to home repair the touchpad was successful (with parts bought on the cheap from ebay), but I broke the LCD screen in the process, and another attempt at fixing seemed to not be worth the effort and/or cost. I was ready to step up to a new model for use on the run, and it was just my luck that the 5G had just arrived on the market.
While the basic functions of the new Nano 5G are more or less similar to my old 2G (e.g., size, audio quality, controls, portability, etc.), where the new Nano really shines is as a tool/gadget for a runner and beginning podcaster/videocaster like myself. While neither the video or audio quality are top notch out of the box, they are sufficient for my purposes for now (audio quality is improved with an external  mic, but more on that later), and have made my entry into the podcasting world far smoother than it might otherwise have been.
With this intro, here are some of the upgrades and new features that have caused me to fall in love with the 5th Generation Ipod Nano:
Storage Space: The jump from a 1GB Nano 2G to a 16GB model was by itself a cause for great joy (I'm not kidding!), as it has relieved my need to constantly shuffle podcast episodes and music on and off before each run due to space limitations. With 16GB of storage space, I have more than enough room to put whatever I want on the Nano, from music to podcasts to audiobooks to videos (yes, videos!). While I haven't and likely won't attempt to watch a video on the run, it would be an interesting challenge.
The other positive aspect of having an immense amount of storage space is that the Nano 5G can record both audio and video (see below), and 16GB offers plenty of room to do this without constantly having to dump the files onto my laptop.
Video Screen: Yes, I can watch videos on my new Nano, which I could not do on my old one. While this is nice in some situations (e.g., on an airplane when my kids have commandeered my Ipod Touch), I don't forsee myself watching many movies on the small Nano screen. That being said, the screen resolution is great, and it's perfect for playing back videos taken using the on-board video camera. I often take short clips and show them to the kids (the Nano 5G has an on-board speaker that is sufficiently loud for this purpose, although the sound quality is tinny – wouldn't expect much more from something this small), and they enjoy seeing videos of themselves replayed immediately after I take them.
Image via Wikipedia
Video Camera: Perhaps the coolest feature new to the Ipod Nano 5G is the on-board video camera.  The camera consists of a tiny little lens situated in the bottom-left corner of the back-side of the Nano – it's about the diameter of a lollipop stick (see picture at right). Immediately next to it is a pin-hole sized opening for the microphone to capture audio. I've seen people complain about the location of the camera since it's easy to block it with your finger by accident while recording (yes, this does happen to me on occasion), and it would have been more convenient had it been placed at the top-left, but once you get used to its position it ceases to be a major issue.
The Nano 5G camera captures VGA video (640×480 pixels) using the H.264/MPEG-4 compression codec, and it shoots up to 30 frames per second with AAC audio.  The files produced are fairly small for video, so the 16GB storage capacity is enough so that you'll likely drain your battery while filming before you fill the drive up (unless you have the thing stuffed to the gills with other content). The quality is by no means HD, but again, this is a Nano – the thing is tiny, and the lower quality and smaller file sizes mean more content can be filmed and saved. The videos produced are more than adequate for recording to share on-line, and to be honest, I think they look pretty good.  Below is a sample video that I shot with the Nano 5G last weekend on a run in Maine in a steadily falling snow – quality is reduced a bit in the upload process to Vimeo, but you can at least get a feel for what this little thing can do:
Maine Winter Run from Pete Larson on Vimeo.
This is a video taken during a snowy run in Maine – sometimes the best runs are those that are not run in the best of conditions. This was one of those.
So I'm very satisfied with the quality of the videos that the Nano can produce, and if I ever need something better, I have a digital camera that shoots HD so I've got that covered as well. The advantage to the Nano over other filming solutions, however, is that I almost always have it with me. I use it to listen to music in my car or while running, which means that it's almost always in my pocket when I leave the house, and it's so thin that it could practically fit into my wallet. The practical implication of this is that I'm pretty much able to shoot a video at any time, which is great when you have little kids – you can always catch those magic moments when they happen (unless you leave the Nano running and record the inside of your pocket for an hour, not that I would ever do something as dumb as that…really…). As a beginning running videocaster, having the camera on-board the Nano is an ideal solution.
I run with music most of the time when I run during daylight hours, so therefore the camera is always with me on my runs, and I can pull it out if I see something interesting or think of something I want to record (like in the video above, which is not something I intended to shoot when I left the house).  All in all, I'm very impressed with the video capabilites of the Nano 5G.
Audio Recording: As a beginning podcaster, the audio recording capabilities of the Nano have been a huge help. The Nano records "voice memos" in MPEG-4 (.m4a) format, and I can record approximately 3 hours worth of audio on a single charge (I record my lectures with it when I teach, and can fit in three 1-hr lectures before the battery dies). The audio recorded via the on-board microphone is of decent quality, and the microphone is sensitive enough that I can put it on the desk in the front of my classroom and record my lecture as I walk around. I've also used the on-board mic to record in the car – I just set it to record and place it on the seat next to me – hands-free and it does a decent enough job picking up my voice. The one problem with the latter situation is that the Nano mic picks up a lot of background noise if it's not close to your mouth, and to solve that I have had to turn to external microphones (see below). One additional nice thing about the Nano as an audio recorder is that unlike my Ipod Touch, the audio files are accessible in a folder when I plug it into my laptop. This way I can just drag and copy them right over to the computer, whereas with the Touch I have to sync in Itunes, then search out the Voice Memos folder in my Itunes Music folder (it's a pain, and doesn't seem like it should be necessary if the Nano can just put them in an openly accessible folder).
If you want to step up the quality and flexibility of voice recording the Nano (or the Touch for that matter), an external microphone is a must. I had a hard time finding information about which microphones might actually work with the Nano, as it doesn't ship with an external mic like the Touch or the Iphone. Thankfully I had one that came on the earbuds packaged with the Touch, and it worked just fine on the Nano (the Apple Earphones with Remote and Mic -see image to right). The Apple earbuds have a microphone built into a little control unit about halfway up the cord leading to the right earbud, such that it hangs just a bit below mouth-level. The advantage of this is that your voice comes in far stronger than any background noise while recording, but the disadvantage is that the microphone still does not produce top-notch sound, and the lack of a wind screen means that it picks up a lot of noise if it bounces, scrapes across your shirt/jacket, or if you try to use it outside in the windy day. I've overcome some of the aforementioned problems by clipping it to my jacket collar when recording in the car or on the run, and in these situations it's the best recording solution I have found.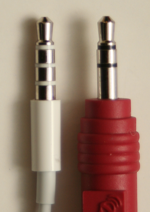 If your goal is to produce the highest quality audio possible, then investing in a better microphone is a must. For that I turned to Twitter for recommendations, and several of my podcasting friends suggested that I look at Giant Squid Audio. Turns out that the Nano (and other Apple devices) requires a special 4-pole plug for the microphone to work properly (an old laptop mic I had would not record on the Nano because of this limitation).What this means is that if you look at the plug that goes into the headphone jack on the Nano, it should have 4 metal rings/sections separated by thin plastic bands, rather than just 3 (the 4-pole plug is the smaller white plug in the picture to the left). Giant Squid makes a microphone for the Iphone/Itouch/Nano that has this type of plug (you can view it here), it's actually cheaper than the Apple mic, and the service was excellent. What's more, the audio quality recorded with the Giant Squid mic is far superior to that of either the Apple external mic mentioned above, or the on-board mic on the Nano itself. I outfitted my Giant Squid mic with a wind screen purchased at Radio Shack (part #330-4006), and it is now my mic of choice for recording either in the house or in the classroom. The one problem with the Giant Squid mic in combo with the Nano is that it is highly sensitive, and picks up the slightest background noise, which has made it impossible for me to use it when recording in the car or on the run (though I know others who do use it while running – guess I'll have to experiment a bit). Part of the probelm (or maybe all of it?) is that Apple provides no way to adjust the audio input gain on their devices, so you can't turn down the sensitivity through the recording device. Regardless, the Giant Squid mic was well worth the $25.00 or so I spent on it, and having the combo of it plus the Apple earbud mic covers me in all of my major recording situations.
Check back later for sample audio comparing the Nano on-board mic, Apple earbud mic, and Giant Squid mic – I'll add it in when I can record it in a standardized fashion. In the meantime, you can play the podcast episode in the Pickle Player below (press the P button) and compare the audio at minute 1:00 to the audio at minute 10:00. The former was recoreded in my basement with the Giant Squid mic, the latter with the on-board mic placed on a desk in the front of my classroom.
Other Features: For me, the video and audio recording are what make the Nano worth upgrading to, but there are a number of other cool features that I haven't played with as much. First, the Nano has a built in pedometer, which seems to do a very good job counting steps (I used it in Epcot Center, and watched as the numbers clicked along in perfect sync with my footfalls). Note – if you use Nike+, you still have to have a sensor attached to the Nano (unlike the new Touch). The Nano 5G also has a radio tuner (which I haven't used yet). There are other things as well, like Voiceover, CoverFlow, and Genius integration, but none of those are make or break if you ask me.
Conclusions: If you're looking for a new Nano, the big selling points for the Apple Ipod Nano 5G in my mind are the voice and video integration – I'm a huge fan of both, and as long as you realize at the outset that you're not buying an HD device, I suspect you'll be impressed as well. I'm amazed at the number of comments that people have made when they see me videotaping something with my Nano, and it's a definite head turner. If you like the idea of having a decent videocamera in your pocket at all times, this is a great solution, particularly since it's an Ipod and therefore does all of the standard things that an Ipod does so well (like carrying your entire music collection). I'll also say that if you have any interest in podcasting and/or videocasting, the Nano 5G is a great entry-level device to get you started. I've been very happy with mine so far, and look to get a lot more use out of it before I consider upgrading to a dedicated voice recorder. So what do you do if you already have a Nano but want to upgrade? I suggest a strategic "stumble" on your next run right next to a puddle, stream, lake, or ocean – a drenched "old" Ipod will give you perfect cover for buying the new Nano 5G!
Feel free to leave a comment if you have any questions or feedback!