Image via
Wikipedia
This is a post about love, passion, and the deep and often complex relationships that we runners develop with … our shoes. These relationships come in many forms – some of us are monogamous, choosing a single shoe and sticking with it through the years despite updates and new models. Some of us are polygamous (myself included) – we can't fathom the idea of settling down with just one shoe for the rest of our lives, and our relationships are constantly in a state of flux. In this post I'll describe my history with running footwear – a sometimes torrid series of affairs and breakups, relationships that never got off the ground, and some that are still being felt out. It's a story the will in parts be familiar to many of you, and will convince you that yes, I am hopelessly addicted to athletic footwear and also very likely slightly insane.
My first running shoe relationship began when I first started running in 2007. I went to a "real" running store and bought my first "real" pair of running shoes. They were Nike Air Structure Triax 10's in red, white, and black, and I fell instantly in love. Not only did the name sound cool, but they had a little pocket for a Nike+ pedometer built into the sole – these babies looked fast, and they liked techie gadgets – what more could a guy want! I grew into a "real" runner in those shoes, and eventually bought a second pair after I wore through the heel on the first. Then, about six months after starting running, my feelings began to change. Those little instep and toe blisters that I used to ignore began to annoy me, and the little pedometer had been lying to me for quite awhile about my speed and distance – how dare it short me 0.012 miles!!!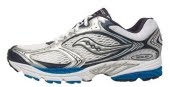 At this point, like a young boy who realizes that girls don't really have cooties, I began to notice other shoes. There were some really nice looking ones out there, and my eyes began to stray. I'd glance around at people's feet at races, not wanting to stare, but admiring a Brooks here, an Asics there. I convinced myself that the Nike's were betraying me, so I dumped them and began a series of short lived affairs with other shoes that I bought on the cheap. There were the Brooks Adrenalines (not bad, but a little stiff), Asics Kayanos (too much like a boot), Asics 2120's (nice ride, but not really flashy enough) and Saucony Progrid Guides (kind of plain). I began to notice racing shoes, so I bought a pair of lightweight Saucony Fastwitch's, which carried me to PR's in the 5K and half-marathon, but I was never enamored with their looks. These fleeting relationships were getting destructive (to my wallet), and I needed to do something drastic – I bought a pair of shoes designed to feel like I wasn't wearing shoes. These were Nike Free 3.0's, and it was love at first wear.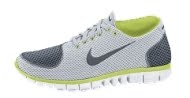 My love of the Nike Free 3.0 came on strong and I fell for them hard. I couldn't stop wearing them, to the point where I almost hurt myself by running 20 miles on only my third run with them. They were so comfortable and flexible that I'd wear them out and about just so I could spend more time with them on my feet. I ran happily through the summer in the Free's, but alas, I realized that I was just not a one shoe kind of guy as I began to notice a new shoe around town – the Nike Lunaracer. It was sporty, unique, lightweight, and looked really fast – I had to have it.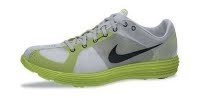 Sure enough, the Lunaracer lived up to its name. I flew in these shoes, and I decided to shelve the comfy old Nike Free's in favor of the flashy Lunaracer for the Hartford Marathon in October – a mistake I regret to this day. You see, despite the speediness of the Lunaracer, they never fit me quite right. I tried to overlook this shortcoming in the hope that things would get better, but they were just too narrow for my foot. A blister developed early on in the race in Hartford, and at the end my toes were a mangled mess. Jamming them into a narrow toebox for 26.2 miles didn't turn out well, and I haven't been speaking with them much since. They let me down when I needed them most, and that's going to be hard to forgive.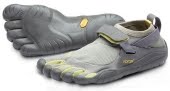 I would be remiss if I didn't include a little story about an on-and-off relationship that I've had with a quirky little character know as the Vibram Fivefingers. These things are like that person that's just a bit off-the-wall, but strangely irresistible at the same time. The "monster shoes," as my kids call them, were another of those must haves that I lusted after this summer. After getting them, I ran severl runs in them, only to develop a bit of pain in my forefoot from taking things too fast. I wanted badly for things to work out between us, but it became clear that my initial passion for these shoes would have to be put in check. With the passage of time, our relationship has crystallized, and I've reached a point of clarity regarding their role. The VFF's are a friend that I'll visit once or twice a week, but we probably aren't going to steady.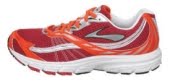 So this leads up to today, where a new shoe has captured my fancy. The Brooks Launch is a beautiful shoe – bright red and orange, a real head turner. It's also fast – when I'm wearing it, I simply want to run. We're still feeling each other out, and who knows where we'll go together (probably to the Disney Marathon in January), but I look forward to the journey. Meanwhile, my Nike Free's and Vibram Fivefingers are still around, and I've been eyeing the Brooks Green Silence, which is due to arrive next year (shh – don't tell the Launch!).
So, I hope you enjoyed this little jaunt through my series of running shoe relationships. You may think I'm crazy (at least a little), but ask yourself this: How did you feel the last time a package arrived at your doorstep with a new pair of running shoes in it? Butterflies, heart racing a bit, couldn't wait to take them out on the town? You know it's true. How did you feel the last time you arrived home expecting said package only to find that it hadn't arrived yet? A bit sad, possibly like you'd been stood up? C'mon, admit it, we runners are strange creatures when it comes to our shoes, but I guess that's part of the fun when it comes to this great sport of ours. Hope you enjoyed this post – now hit the road and give your shoes some love!