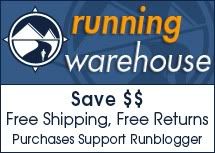 I'm pleased to be able to offer a 10% off Running Warehouse discount coupon code for visitors to Runblogger.com – all you have to do is click on the Running Warehouse banner posted to the left to activate the discount code and shop at Running Warehouse. Please note that this discount excludes products from Asics and Mizuno.
I approached Running Warehouse about advertising since I generally buy most of my running gear through their website, and have nothing but positive things to say about them – their prices are generally the lowest that I find, they offer free 2 day shipping and free returns, and the Running Warehouse website provides a wealth of useful information on running products (including data on heel-toe drop for many of the shoes they sell). I also find the Running Warehouse Blog to be very good source of information about upcoming models of running shoes.
In the interest of full disclosure, I'll add that a percentage of the value of each sale made via use of this code will be kicked back to me to help support what I do here on Runblogger – your support is very much appreciated! In particular, these earnings help me to buy the gear that I review here without risking dismemberment by my wife for spending hard-earned family money on ridiculous numbers of pairs of running shoes.