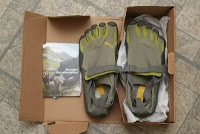 You know that feeling you get in your muscles after you go to the gym for the first time in months and overdo the weight training? I'm referring to that initial stiffness that prevents you from lifting your arms above your head, which then slowly morphs into burning delayed onset muscle soreness over the next few days? That's exactly what has happened to my calf muscles since running 7 miles in my Vibram Fivefinger KSO's yesterday morning. By last night, my legs were stiff, but I felt no real pain. When I woke up this morning, however, I knew I was in for it. Despite my legs screaming at me to stay home, I decided to still go out for my planned long run, and the soreness (+ heat/humidity) trimmed my 17 miler into a 13 mile walk/run nightmare. As I sit here writing this nearly 36 hours after the Vibram run, my calves are burning and I'm hobbling around like I've just finished a marathon. Some might think this is a bad thing, but I, on the other hand, am reveling in the pain. What it tells me is that the Vibrams are something special, and that they've given me a workout unlike any I've had out on the road (save maybe for my two marathons).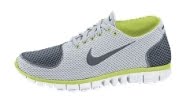 Let me preface what I'm about to say with a little background. I've been running regularly for 2+ years and have been averaging 30-40 miles per week for most of this summer. I've yet to have a significant running-related injury, and soreness after a run is a rarity. It's for the latter reason that I know the Vibram Fivefingers are special "shoes." There are a bunch of shoes out there that are touted to provide a "barefoot-like" running experience. In fact, I've been running quite a bit this summer in one of them – the Nike Free 3.0 (see picture above and to the right). The only time I've felt truly sore after wearing the Nike Free's was when I made the ill-advised choice to log 20 miles in only my third run wearing them (do you see a pattern here???). That being said, I truly believe that running in the Free's has strengthened my feet a great deal. It's hard to pinpoint exactly why I say this, but my feet feel somehow different than before – as if muscles in my foot that I never knew existed have suddenly tightened up. The Nike Free's are extremely flexible and lightweight, but they still have a reasonably cushioned sole and heel, so my calf muscles haven't suffered too much in them.
Image via
Wikipedia
Unlike the Nike Free's, the Vibram Fivefingers have no cushioning and no heel, save for a thin sheet of rubber-like material. Thus, running in Vibrams is about as close as you can get to being barefoot without actually having your real bare foot in contact with the ground. As my calves can now attest, running in shoes without a thick sole is a world apart from the running experience in virtually any other shoe on the market today. Humans evolved to run barefoot, of that there can be no dispute. The difference between my experience running in Vibrams versus that running in any other "technologically advanced" shoe tells me that modern, cushioned shoes are not allowing us to run "naturally." If they did, why are my calves so sore today? It has nothing to do with the extra 13 miles, since my legs were sore from the moment I woke up this morning. My only conclusion can be that wearing Vibrams, essentially running "barefoot," works parts of my calf muscles that do not get stressed when wearing more typical running shoes. In other words, when wearing "traditional" shoes, I'm not using parts of these muscles that clearly play an important role in running the way the human body evolved to run (i.e., barefoot). Throwing a thick, cushioned sole on a shoe clearly changes our gait biomechanics in a fundamental way, of that I now have no doubt, and it changes it in a way that has a direct impact on how we use our calf muscles when we run.
The more I think about the whole minimalist running phenomenon, the more I realize that it all makes sense. There's a lot of good science supporting it, and the lack of a rebuttal to Christopher McDougall's book "Born to Run" by any of the major shoe companies makes me further believe in what he has to say. For now, I'm going to continue my experiment and see where it takes me – who knows, maybe I'll be running a marathon in Vibrams at some point in the not-too-distant future.
Update 2/27/2010: You can now view my entire series of posts/podcast episodes/videos on my experience running in the Vibram Fivefingers. You can also view my entire series of posts on Minimalist Running.
Update 12/10/09: I just added a new post comparing slow motion video of footstrikes from myself and a student of mine running in stability shoes, Vibram Fivefingers KSO's, and barefoot. Amazing difference – check it out!: Vibram Fivefingers and Barefoot Running: Does Removing Heel Cushion Change Footstrike?
Update 7/09/10: I just put up a post about my first run in the new Vibram Fivefingers Bikila. Check out my very preliminary Vibram Fivefingers Bikila review here.