Word from the floor of the 2013 Summer Outdoor Retailer Show is that the new trend in running footwear is max cushioning in a lightweight package that incorporates some elements derived from minimalism. The following tweets from Brian Metzler of Competitor.com sum up what's going on:
Minimal/barefoot run shoe trend is almost gone, but it served purposes of making all shoes lighter & helping runners rethink form and foam.

— brianmetzler (@brianmetzler) August 1, 2013
Big 2014 running trend: Max cushion in lightweight shoes. Many brands launching dynamic new foams. @RunCompetitor pic.twitter.com/AXelJyBJve

— brianmetzler (@brianmetzler) August 1, 2013
I've seen this transition very clearly in the growing popularity of shoes like those made by Hoka One One which combine a low drop sole with maximal amounts of cushioning.Two examples of this trend set to be released in early 2014 are the Altra Olympus and Brooks Transcend.
The Altra Olympus is a shoe that I've heard rumors about for some time, and Altra released a photo yesterday on Instagram: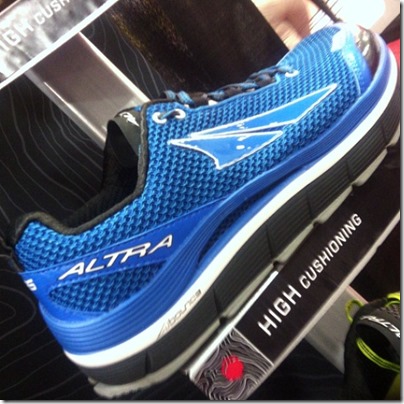 Altra has long maintained that they are not a minimalist brand, but rather a zero drop brand that stays true to their belief that a foot-shaped last is best. What they have done is produce shoes with varying amounts of cushioning that respect these two core beliefs, and the Olympus is a trail shoe that sits on the maximal end of their cushioning scale (the Altra Torin previously occupied this spot – my wife is currently experimenting with the Torin along with her Hokas). My suspicion is that this shoe will be popular with members of the trail running community who like the Hoka feel but who have trouble with the snugger fit of Hoka toeboxes.
Yesterday Brooks unveiled a new shoe called the Brooks Transcend. The Transcend is a more traditional style stability shoe (I think it is replacing the Trance), but it does away with a medial post and incorporates the rounded, undercut heel of the Pure Project (Competitor.com reports the Transcend to be 8mm drop and 12.2oz in size 9 – pretty heavy if true!). It will also apparently have the softest cushioning in the Brooks lineup. So, the Transcend appears to be an example of a more traditional running shoe that incorporates some elements that appeared in their more minimal PureProject footwear. If the website introducing the Transcend is any indication, Brooks expects the Transcend to be a big hit. Below are some screen captures from the intro site:
Although I tend to prefer a bit of softish cushion in an easy run/distance shoe, I'm not sure either of these will fit in my sweet spot, but it's interesting to see how shoe companies are starting to mix and match pieces of shoe design in different combinations. This can only be a good thing for runners as variation allows us all to find our own sweet spot.
I do have strong reservations about the max cushioning trend and how it will influence running form, but at the same time have seen many benefit from a move into shoes like Hokas (my wife, my friend Nate). I think what we are seeing here is a very similar situation as happened with minimal – some people tried the shoes and reported benefit, a niche brand (Vibram, now Hoka) caught on with a subgroup of the running population, and then the big brands move in if the trend has legs. After a few years things will shake out and the niche will remain and the big players will move on to the next big money maker.
As with minimalism, I'm sure we will now start seeing scientists addressing the influence of this type of max-cushioned shoe on injury rates and form, though unfortunately the market will likely have moved on before any form of consensus forms (much as happened with minimalism – there are still a ton of unanswered questions). My hope is that all options remain on the table, and I'm confident that will be the case since even if the big manufactures ditch the barefoot or max-cushion concept (and stick to their safe-sells), niche brands will likely still cater to these markets.
As a final aside, for those who, like me, enjoy a low drop shoe with just a bit of cushion, you will be pleased to know shoes like the Saucony Virrata 2 and New Balance MT110 v2 were also on display at the OR show – photos courtesy of Brian Metzler on Twitter: