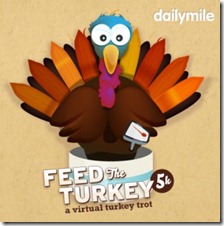 Putting in a few miles out on the roads or trails is a Thanksgiving tradition for many runners. Some of us head out to local Turkey Trots and race with friends and family, and others run a few solitary miles to burn off some calories in preparation for the feast to come later in the day. This year, the dailymile Team has put together what we are calling the Feed the Turkey Virtual Turkey Trot. Whether you are running an organized event or running alone, whether you are a member of dailymile or not, we encourage you to consider joining us for this first-time event.
Why should you Feed the Turkey? The answer is simple – because we created this event to raise money for St. Jude Children's Research Hospital. The mission of St. Jude's is to "advance cures, and means of prevention, for pediatric catastrophic diseases." Every kid deserves the chance to lead a happy and healthy life, and hopefully to run their own 5k someday, and St. Jude is at the forefront of helping kids who are suffering in ways that no child should. When you enter the Feed the Turkey Virtual Turkey Trot you will be asked to donate $1, $5, or $10 to St. Jude – it's a small amount, but our numbers are large, and we can make a difference.
We hope you'll join us, and please encourage your friends and family to join the fun as well.  Here's what you need to do to participate:
Head over to feedtheturkey.com to sign up
Post that you are participating on dailymile, Facebook, Twitter, and/or your own blog (feel free to use the image in this post!)
Make your donation (levels are easy to handle – $1, $5, or $10) which will go 100% to St. Jude Children's Research Hospital.
Run or walk a 5k (or more) on Thanksgiving day.  It can be an official race, a solo effort, or just a fun run with friends.
Head back to feedtheturkey.com to post your results, print your finisher's certificate, and be entered for prize giveaways!
If you are a fellow running blogger, Facebook user, or Twitter runner, please help us spread the word – you're more than welcome to use any of the text and images I have posted here if you choose to do so. Let's all pitch in to make this event a huge success for St. Jude's!